The leading academic English proficiency test for study in Canada, CAEL, is available to take at CUE!
The Canadian Academic English Language (CAEL) Test is a test designed to measure the English language proficiency of students planning to study in Canadian post-secondary institutions.
CAEL is one of the best tools for identifying students with the right English skills for academic success. It provides an authentic representation of language use in a Canadian academic context. Test takers read articles, listen to a lecture, answer questions, and write a short essay, as they would be expected to do in a first-year Canadian university or college classroom.
The test is now available as a computer-delivered test, known as CAEL CE (Computer Edition). CAEL CE has been improved to deliver all four components (reading, listening, writing, and speaking) by computer in a single test sitting.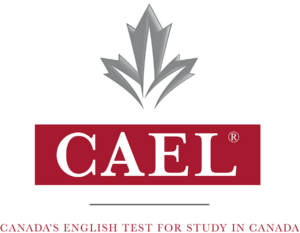 Registration
For availability, fees and registration, visit cael.ca/cuedmonton.
Information Brochures
Find out more
CAEL is accepted by several academic institutions across Canada. A number of professional organizations also recognize the CAEL as a part of their accreditation process. Find out more at cael.ca.
Find out about more Pretest sittings and FAQs here.
Watch your test day journey here.
Questions?
Email us at extension@concordia.ab.ca
Call us at 1-780-378-8470