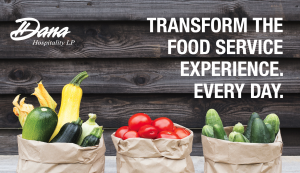 Concordia University of Edmonton is proud to partner with Dana Hospitality as our food service provider on campus.
What can you expect?
Dana Hospitality, a Canadian culinary company, makes their food from scratch using fresh local ingredients every day. Understanding that high quality ingredients are integral to great food preparation, they source from local Canadian producers, greenhouse growers and dedicated farmers who meet the highest standards. Those ingredients, combined with menus customized daily, ensure that what they deliver will be the best possible taste experience for CUE students, faculty, staff and guests.
Open to feedback
Dana serves healthy-sized portions and prepare their food using healthy cooking techniques. They never use frozen, pre-packaged or processed entrées or canned, freeze-dried or bagged soup. They offer diverse menu options and create their menus based on your preferences.
Please do not hesitate to give your comments and suggestions to the Chef as this will help in the creation of a program designed just for you.
A variety of options
Menus will include hot and cold breakfast and lunch options with vegetarian choices at each, along with wide variety of fresh and fast options available throughout the day. You will taste freshly prepared soups and entrees (low sodium), in-house roasted beef and turkey, hand-formed burgers and fresh cut fries, homemade dressings, sauces and desserts and so much more!
A great choice for CUE
Dana's blend of local sourcing, culinary craftsmanship and inherently healthy menu choices will allow us to enjoy great food, great taste experiences and a wide selection of options from which to choose.