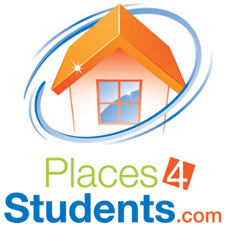 Off-Campus Housing Listings
We have partnered with Places4Students Inc. to provide an online collection of numerous housing options. Places4Students provides students, schools and landlords with the highest quality, off-campus housing service. The website provides a large real-time database for student housing vacancies in our area, including photos and text, contact information and property features.
Benefits of Places4Students
Google-mapping capabilities
Up-to-date database that is real-time 24/7
Descriptive listings with photos, amenity icons and floor plans to advertise your property most effectively
Quick search capabilities allow students to sort listings by price, preferred features and specific requirements
Live customer support (toll-free) or "help" link online
Any questions or concerns related to Places4Students can be directed to their dedicated customer service team:
Places4Students Customer Service
admin@places4students.com
1-866-766-0767
Monday-Thursday 9am-7pm EST (7am-5pm MST)
Friday 9am-5pm EST (7am-3pm MST)
Other Rental Sites
Other rental sites you may choose to consider looking at, please note these are also external to and unaffiliated with CUE:
Landlord FAQs
Can I still list my property on CUE's website free of charge?
No, we closed our internal registry on June 23, 2021.
Why has CUE partnered with Places4Students?
We know that housing is one of the most crucial parts of succeeding as a university student, and as a human. Our partnership with Places4Students allows us to provide better service to students who will be living off-campus. The Places4Students website will provide a variety of benefits to our students and landlords that will save them time and improve the quality of listings. Landlords can highlight more aspects of their properties and students can make more informed decisions because of built-in features of the Places4Students platform such as map details, amenity icons, photo uploads, floor plans, and even virtual reality tours!
What fees are associated with Places4Students and are they worth it?
There are no fees for students, they are able to use all the services for free.
Landlords pay $27.99 for a general listing and $40.99 if they would like for their listing to be "featured". There are also reduced rates for multi-unit listings.
We are confident that the value added by their services will be beyond worth the initial cost for listings. More information about the benefits to landlords can be found here. They also provide information for landlords on protecting themselves from scams.
Is it safe to post my listing on Places4Students?
Places4Students is widely used in North America as a listings service for post-secondary institutions. You may choose to visit this page of their website which includes information about scam/fraud protection. There are risks associated with posting your listing anywhere online, including Places4Students or CUE's webpage.

Liability Notice: Concordia University of Edmonton (CUE) partners with Places4Students to advertise accommodations from others for the convenience of its students. The listers and listings displayed herein do not imply approval or recommendation by CUE, nor are the listings verified for accuracy or inspected in any way. In addition, CUE does not conduct police clearance checks on others in relation to any off-campus housing listings. CUE does not validate or take responsibility for the condition of any premises listed nor can it guarantee the accuracy of the information provided by independent listers on this site or for the actions or inactions of others who use this listing service to advertise accommodations. It is the responsibility of the user to verify the accuracy of any information found herein. CUE is not responsible for damages, loss of income or any other loss including but not limited to liability of any kind relating to or arising out of the information or use of the information contained herein. Any use of the information constitutes acceptance by the user of any risk or injury or loss of any kind relating to or arising out of the information. As a user of information found herein or as a supplier thereof, I release and hold harmless Concordia University of Edmonton, its Board of Directors, its employees, volunteers and agents from any and all liability including but not limited to any loss, damage, injury or expense that I may suffer. For more information please refer to the Alberta Landlord and Tenant Act.
Do you have questions about Off-Campus Housing at CUE?
Please contact our team directly via email: housing@concordia.ab.ca