Upcoming Events
January 17 – 21, 2022
Join us for a Career Week
Details to come
---
Past Events
May 2021
SPRING INTO YOUR CAREER:
May 13 – 20, 2021
Virtual career exploration and job search events
ATB Employer Spotlight Session – Thursday, May 13 | 12 – 1 pm
LinkedIn & Networking – Monday, May 17 | 12 – 1 pm
Career Exploration & Management: Professional Panel – Tuesday, May 18 | 3 – 4:30 pm
Meet the Panel
Mary Andreassen, from Camrose Alberta, is a Health and Wellness and Indigenous Education Teacher Consultant for Grande Yellowhead Public School Division.
Mary graduated from Concordia University of Edmonton in 2015 with a Bachelor of Arts in History. She then worked as a researcher and Chief of Staff for Native Counselling Services of Alberta. She later returned to Concordia University of Edmonton and obtained her Bachelor of Education (2018).
Eager to return to her rural roots, Mary moved to Hinton, Alberta where she taught high school humanities and option courses at an outreach school and enjoyed the natural beauty of her surroundings.
In her second year, Mary transitioned to the role of Teacher Consultant for Grande Yellowhead Public School Division, where she supports teachers and schools in implementing foundational knowledge into their practice and facilitates division wide health and wellness initiatives to support student learning.
Layla Dumont is a Nehyiaw iskwew (Cree Woman) from the Onion Lake Cree Nation in Treaty 6 territory. Layla holds a Bachelor of Arts degree in Applied Psychology from Concordia University of Edmonton and has experience in education, public safety through traditional healing and community-based rehabilitation including her work as a parole officer at a healing lodge for Indigenous women and in a community-based violence prevention program for Indigenous youth. Layla works through an Indigenous cultural lens based on understanding of, and healing from, historic trauma through connection to spirit, culture, and community. Layla has also worked with the Alberta School Boards Association as the Indigenous Relations Coordinator, supporting education communities across Alberta in their journey towards reconciliation and is honoured to be back working directly with her people to address racism, discrimination and sexism through Roots of Resilience.
Steve Kovacic MBA, CPHR, SHRM-SCP is the Vice President, Employee Experience + IT for the Good Samaritan Society/Good Samaritan Canada. He has just recently joined Good Samaritan, but is excited to support the organization in becoming an employer of choice.
Steve came to Good Samaritan from Covenant Care and Covenant Living where he held the role of Vice President, People & Information Technology. In this role, Steve was instrumental in developing the core operational human resources and information technology portfolios. This included the development of an employee engagement strategy and the development of industry key performance indicators. Furthermore, he led the design of a growth and innovation framework aimed to enhance seniors care and enterprise efficiencies.
Steve holds a graduate certificate in Executive Leadership, a Bachelor of Science (B.Sc.) and a Masters of Business Administration (MBA) from the University of Alberta. Additionally, he is a Senior Certified Professional with the Society for Human Resources Management and a Certified Human Resources Professional in Canada and is a candidate for the designation of Strategic Management Professional.
Steve is currently the Chair of the Chartered Professionals in Human Resources (CPHR) Board of Alberta.
Sarah-Ann Timmerman is an experienced professional specializing in Technology Enabled Business Transformation, with a primary focus in Operational Process Integration.
Working on a wide range of large-scale transformations, systems modernizations and technology implementations, she has obtained a strong knowledge and understanding in business strategies, approaches and objectives in working to achieve the balance between people, process and technology.
As a Manager within Deloitte's Technology Strategy & Transformation Offering, within the Enterprise Technology & Performance Portfolio, Sarah-Ann has dedicated her career to helping clients transform business operations through technology enablements and has a passion for bridging the gap between business and technology.
Sarah-Ann holds a Bachelor of Management from Concordia University of Edmonton and has nearly a decade of experience in Management Consulting and external client services. She is currently working towards earning an Executive MBA through the University of Fredericton.
Level up your Job Search: Communicate your Value – Wednesday, May 19 | 11 am – 12 pm
Creating your next Cover Letter – Wednesday, May 19 | 12 pm – 1 pm
Rapid Resume Reviews – Thursday, May 20 | 2 – 5 pm
March 2021
BGIS Info Session – Tuesday, March 2, 2021 at 12:00 noon
January 2021
CAREER WEEK:
Jan 18 – Resume Building Workshop
12:00 PM – 1:00 PM Presenter: City of Edmonton
Jan 19 – Interview Workshop
12:00 PM – 1:00PM Presenter: SMS Equipment Inc
Jan 20 – Volunteer Fair
11:00 AM: REACH Edmonton
11:30 AM: Habitat for Humanity
12:00 PM: Boys & Girls Club/Big Brothers Big Sisters
12:30 PM: Young Life
1:00 PM: P.A.L.S (Project Adult Literacy Society)
Jan 21 – Alumni Panel
3:30 PM – 5:30 PM
Meet our Alumni Panel:
Hussein Bhanji (BA Political Economy)
Hussein Bhanji
Vice President
Commercial Banking
Prairies Central Region
Bank of Montreal
Hussein graduated from Concordia University of Alberta, with a Bachelor of Arts degree in Political Economy. He has also completed several management and senior leadership courses with external organizations.
Hussein was born and raised in Nairobi, Kenya and strongly believes in giving back to the communities he lives in. He presently serves as the Chair for the Aga Khan Foundation World Partnership Golf Tournament (Edmonton), and sits on the Board of Directors for Progressive Academy. He has also served with the United Way of Alberta Capital Region, JDRF Ride to Cure Diabetes as well as with Junior Achievement. In his spare time, Hussein enjoys spending time with his 8 year old son, golfing, travelling and watching cricket.
His professional experience in the financial services industry comprises of Commercial Banking, Real Estate Finance, M & A, Cross Border Banking, as well as Syndications. At present, Hussein is the Vice President of Commercial Banking, Leading the Mid Market Diversified group for BMO Bank of Montreal – a position he has enjoyed for the past 4 years. In total, Hussein brings over 14 years of Commercial Banking experience to his clients and his teams. He has extensive experience leading high functioning teams, in lending and financial management experience that specialize in developing solutions to help clients reach their business and financial goals.
Morgan Patrick (BSc Biology)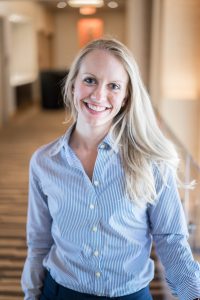 Morgan Patrick
President of the Canadian Association of Pharmacy Students and Interns (CAPSI)
Morgan graduated from CUE with a Bachelor of Science in general biology and a minor in biochemistry. She will graduate from the University of Alberta's Doctor of Pharmacy program in April of 2021.
Prior to her acceptance into the pharmacy program, she completed a Bachelor of Science at Concordia University of Edmonton and a Health Policy Master's at Carleton University in Ottawa, ON. Throughout her post secondary education, she has worked for the Canadian Institute of Health Research, Alberta Health Services, Rexall, Shoppers Drug Mart, and a private Parkinson's Clinic.
She has also been heavily involved in extracurricular activities at each stage of her education. She started as the President of CUE's Science Club, Finance and Logistic Director of CUE's Supplemental Instruction Program, and Leader/Attendee of CUE's Mission Trip. Morgan is currently the President of the Canadian Association of Pharmacy Students and Interns (CAPSI) – a not-for-profit organization uniting more than 3000 pharmacy students across Canada (For more info, visit capsi.ca).
Tolulope Mabo (MISAM)
Tolulope Mabo
Cyber Security Senior Consultant
KPMG
Tolulope is originally from Lagos, Nigeria where she completed her Bachelor's Degree in Computer Science and Information Technology from Bowen University. Her zeal and passion for the Information Systems Security and Assurance industry led her to further pursue a Master's degree in Masters of Information Systems Assurance Management (MISAM) at CUE.
Her overall experience at CUE is one that will forever remain engraved in her heart. During her MISAM program, she encountered and worked with some really brilliant minds and forward-thinking people, inclusive of her colleagues, professors and administrative personnel. Additionally, she served as the CUE ISACA Student President, which allowed her to sit on the ISACA Edmonton Board and act as a spokesperson for the Students. Furthermore, she worked as a Graduate Assistant for several courses in the MISSM/MISAM program and had her final research paper published at WorldCist 2018, Italy.
The MISAM program provided her with the solid foundation which launched her into a career as a Senior Information Security Consultant at Ntt Data. She eventually joined Deloitte as an Enterprise Risk Consultant and currently, she works as a Cyber Security Senior Consultant at KPMG. Her work experiences have further expanded her knowledge in the Information Assurance and Security Industry. Her drive and passion for continuous learning spurred her on, to obtain certifications such as CISA, CNSS , CSXF, and COBIT 5 Security Assessor.
Tolulope is delighted to be part of the Alumni Panel at the upcoming CUE Career Fair and she is looking forward to meeting everyone!
Jan 22 – Career Fair
11:00 AM:
Alberta Correctional Services
Royal Bank of Canada
11:30 AM:
Creative Promotional Marketing Agency
12:00 PM:
Edmonton Police Services
12:30 PM:
TD Commercial Bank
Please check the SLL Moodle page for recordings of each workshop if you are unable to attend.
Contact careerservices@concordia.ab.ca with any questions.
November 2020
November 3: LinkedIn Workshop
October 2020
October 1: Interview Workshop
October 19: Volunteer Information Session – Boys & Girls Club, Big Brothers Big Sisters
September 2020
September 2: Virtual International Internship Information Session
September 10: Job Search Strategies
September 15: Resume Writing
September 17: Cover Letter Writing
April 2020
Wednesday, April 8 Drop-in Resume Review in Tegler
12 pm – 1 pm Robert Tegler Student Centre
March 2020
Monday, March 2 Employer Information Booth: Canadian Armed Forces
11 am – 1 pm Tegler
Wednesday, March 4 Land a Summer Job: Interview Workshop
12 pm – 1 pm HA 206
Tuesday, March 10 Drop-in Resume Review in Tegler
12 pm – 1 pm Robert Tegler Student Centre
Thursday, March 19 Drop-in Resume Review in Tegler
12 pm – 1 pm Robert Tegler Student Centre
February 2020
Tuesday, Feb. 4 International Undergraduate Resume Session
12 pm – 1 pm in HA206
Wednesday, Feb. 5 Land a Summer Job: Resume Writing Workshop
12 pm – 1 pm in HA206
Thursday, Feb. 6 International Undergraduate Cover Letter Session
12 pm – 1 pm in HA206
Wednesday, Feb. 12 Land a Summer Job: Cover Letter Workshop
12 pm – 1 pm HA237
Thursday, Feb. 13 International Graduate Resume Session
12 pm – 1 pm HA206
Tuesday, Feb 11, Drop-in Resume Review in Tegler
12 pm – 1 pm Robert Tegler Student Centre
Thursday, Feb. 27 International Graduate Cover Letter Workshop
12 pm – 1 pm HA-019
January 29, 2020, 10am to 2pm
Money Mentors
November 1, 11am-1pm
Resume Writing Boot Camp
November 2, 11am – 1pm in Tegler
Discover Career Services
November 5, 7, from 11am-1pm, by Student Success Centre
Parks Canada Recruitment Event
November 9, 10am-2pm
CPA Career Connections
November 20
Resume Writing Boot Camp
November 21
Discover Career Services focus on Career Exploration
November 23, 11am-1pm
Alberta Public Service Career Mixer
November 28 2018
Explore career options with Alberta Public Service
More events hosted by Career Services will pop up throughout the year!
Watch for these event promotions in the Student Success Centre, around campus and in the student newsletter emailed to all students weekly.