CUE Partnerships
---
Cold Lake First Nations
On March 21, 2019, CUE and Cold Lake First Nations hosted their first Tea Dance to celebrate their newly signed Partnership Agreement. The agreement indicates that both parties will work together on the revitalization of Denesuline language and culture to urban members of the Cold Lake First Nation. The agreement will also support a Denesuline language project supported by CUE's Artificial Intelligence Centre.
Métis Nation of Alberta/ Rupertsland Institute/Métis Education Foundation
On September 14, 2018, the Métis Nation of Alberta (Region IV), Rupertsland Institute and CUE came together to announce a Memorandum of Understanding (MOU) and Endowment Fund that would support Métis students. The MOU is rooted in commitment to Métis students, where the parties work together to alleviate financial stress by providing Métis-specific scholarship awards. MNA, RLI and CUE will continue to work in partnership to uphold the cultural values and practices of Métis people through research, community and registration events and finally, the engagement and support of Métis students through CUE's IKRC.
Sawridge First Nation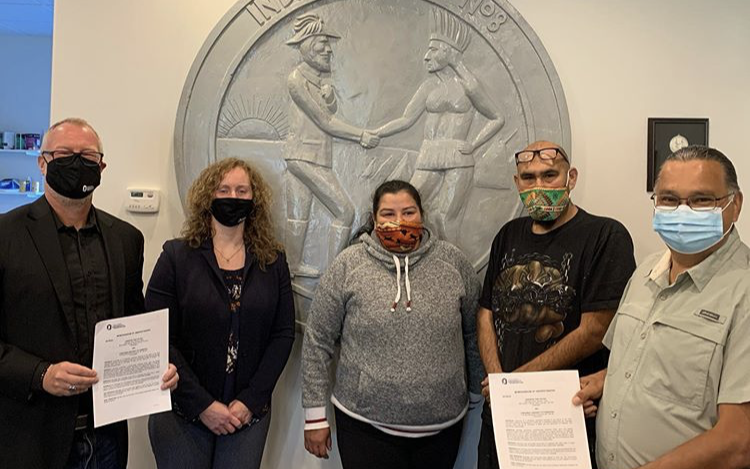 On September 8, 2020, Sawridge First Nation and CUE signed a Memorandum of Understanding which enables a respectful and mutually beneficial relationship which prioritizes research, information sharing and other co-created projects. This includes the rights and interests of Sawridge First Nation, the history of Sawridge and its governance and centres existing expertise and traditional knowledge in Sawridge First Nation, its members and throughout Treaty 8. Research will be conducted to learn about indigenous berries and plants in Sawridge First Nation territory as well as sampling for safe land areas for traditional harvesting by members of the community.