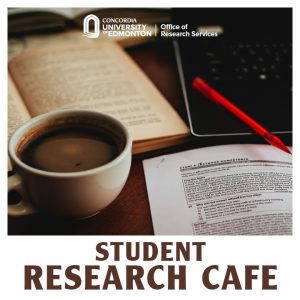 The Student Research Café provides an opportunity for students and researchers to meet informally and engage directly.
Students are invited to ask questions about topics ranging from research in an academic environment to career choices and entrepreneurial opportunities.
Faculty members and other CUE community members are also welcome to attend.
Click the links below to learn about recent Student Research Café events at CUE.
These events are organized by the Office of Research and Innovation.
If you have any questions about the Student Research Café, please contact research@concordia.ab.ca.
---
Acknowledgement
CUE Research thanks the Tri-Agency for its support via the Research Support Fund. To learn more about the role of the Research Support Fund at CUE, click here.