All members of the Concordia University of Edmonton (CUE) community are invited to join the annual Faculty Research Symposium.
This event highlights the fascinating research being conducted by CUE faculty members.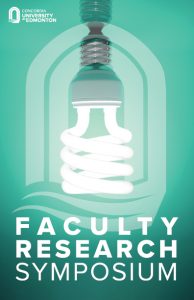 The 2022 Faculty Research Symposium took place on Thursday, April 21, 2022.
Click here to view the program for this event.
The Faculty Research Symposium is organized by the Office of Research Services. If you have any questions about the event, please contact research@concordia.ab.ca.
Acknowledgement
CUE Research thanks the Tri-Agency for its support via the Research Support Fund. To learn more about the role of the Research Support Fund at CUE, click here.