Go back to news
NEW – Student Research Cafe series. February 26th, 2020 at noon, in the BMO-CIAR
Posted on: Jan 29, 2020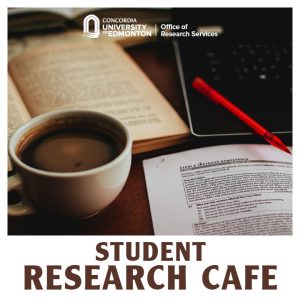 We are happy to announce the launch of the Student Research Cafe event series. Please, RSVP to join us on Wednesday, February 26th, 2020 at noon in the BMO-CIAR (AW125).
Pizza will be served.
We have limited space, so please make sure to RSVP before February 14th. Come join us!
What is the Student Research Café?
The Student Research Café is an informal meeting between students and  investigators in various relevant fields. The event will allow the students to engage with the presenters in a direct manner, with topics such as career choices, research outside academia, how to become a research entrepreneur, how to do research in an academic environment/private sector/public sector, etc.
This Series is aimed primarily at students. Activities such as the ones proposed for this series will stimulate creative thinking and bring knowledge creators in contact with our students.
For this occasion, students will meet with Dr. Harissios Vliagoftis, from the Division of Pulmonary Medicine at the University of Alberta. Dr. Vliagoftis is a leader in biomedical research in asthma and allergy, and will share with the attendees his personal experience as a researcher.
Guest information

Dr. Vliagoftis is a core member of the Health Canada's Scientific Advisory Committee on Respiratory and Allergy Therapies and of the Respiratory Health Strategic Clinical Network. He has served as director of the Department of Medicine's Division of Pulmonary Medicine and Zone chief for pulmonary medicine.

He is a board director with the Canadian Society of Allergy and Clinical Immunology and member of the Core Committee of the Respiratory Health Strategic Clinical Network. He is also the former vice-chair of the Thoracic Network of Alberta & NWT, former member of the Board of the Lung Association of Alberta and NWT and former chair of the Canadian Allergy Asthma and Immunology Foundation Research Committee.

`
This event is organized by the Asst. Vice-President Research, with the assistance of the Office of Research Services. Research at Concordia University of Edmonton is supported in part by the Research Support Fund, a Tri-Agency initiative that assists Canadian post-secondary institutions with costs associated with managing research funded by the federal research granting agencies. Concordia University of Edmonton acknowledges the value of this support and appreciates this ongoing research investment.