Undergraduate Research in Science Conference of Alberta
Celebrating Tomorrow's Leaders, Today.
Concordia University of Edmonton (CUE) is proud to be hosting the Undergraduate Research in Science Conference of Alberta (URSCA) on May 3-4, 2021.
URSCA brings together students, faculty, and members of the academic community from across the province who are actively engaged in research activities and committed to advancing scientific innovation at the undergraduate level. URSCA has become Alberta's premier venue for disseminating and discussing research being done by undergraduate students across a variety of scientific fields.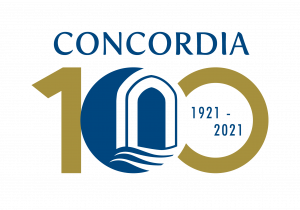 For 100 years, CUE has been a gathering place for students from around the world who are committed to making a difference and being leaders in their communities. CUE is a place where anything is possible, where growth is guaranteed, and where everyone—regardless of who you are or where you're from—is welcome, appreciated, and supported. We are proud to be hosting URSCA 2021 and we look forward to welcoming all participants as part of our centennial celebrations.
Undergraduate Research Under Extraordinary Circumstances
URSCA 2021 will be held virtually and will celebrate the remarkable research done by undergraduate students over the past year. While research activities have been interrupted and negatively impacted by COVID-19, students from across Alberta have shown tremendous resiliency, perseverance, and dedication to scientific exploration.
As we continue to navigate the complexity of the COVID-19 pandemic, the role and importance of science cannot be overlooked or overstated. Tools developed through scientific research are giving governments, industry, and communities the ability and license to control, pivot, and rebuild from the pandemic.
Details
Date: May 3-4, 2021
Location: Presented virtually via Zoom by CUE
Registration: To register for the event, please visit Eventbrite.
If you intend to submit an abstract, please register as a presenter.
If you are not submitting an abstract, please register as an attendee.
Program
Download the program booklet here: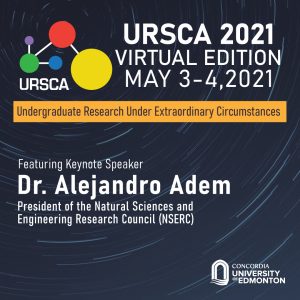 Event Agenda
The updated presentation session schedule can be downloaded here.
Contact
For questions and more information, please contact ursca2021@concordia.ab.ca.
Thank you to our Sponsors