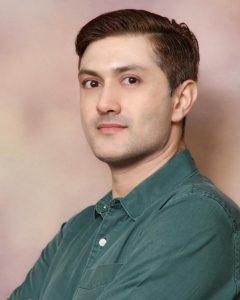 Mahdi Kashani
Sessional Instructor, English
PhD Candidate
Office: A201E
Email: Mahdi.kashani@concordia.ab.ca
Education and Interests:
PhD Candidate, 2019, University of Alberta,
MA, English, 2016, University of Alberta, Canada
MPhil, English, 2014, Korea University, South Korea
MA, English, 2010, Arak Azad University, Iran
BA, English, 2007, University of Arak, Iran
I specialize in Modernist literature and Postclassical Narratology. My current PhD research project deals with Antenarrativity in Late-modernism as they intersect with Irish and Global Geopolitics. "The Chaotic Narratology of Joycean Nocturnal Raconteurs: Finnegans Wake's Quest for Mitigating Cosmic Narratives" is a dissertation that would help decode Joyce's Finnegans Wake. I scrutinize the way stories are formed and narrated in the post-Einsteinian era and argue that specific aspects of Relativity and Chaos Theory inform a new conception of geopolitics and language. My shorter research projects and conference presentations deal with modernist and postmodernist cosmology and geopolitics.
I teach a broad range of subjects, including Greek and Roman Tragic Plays, first-year Introduction to Critical Analysis, Victorian and Modernist literature, Narrative theory, and world literature.
Select Publications:
 Kashani, Mahdi; and Harati M. "A Study of the Essence of Tragedy in Millerian Plays
            Throughout Nietzsche's Idea of Inevitability," C.S.Canada: Studies in Literature and
            Language, Vol. 3, No. 3, 2011, pp. 79-85.
Kashani, Mahdi; and Ahmadian, M; "Mystic Aesthetics of Art in A Portrait of the Artist as a
            Young Man by James Joyce," (In Farsi); Journal of Contemporary Literary
            Researches, Tehran University. 2011.
Kashani, Mahdi, "Chaotic Aesthetics: A Postmodern Critique," Journal of Postmodern
            Literary Criticism, Al-Zahra University, 2009.
 Work in Progress:
 Kashani L. Mahdi. "Waking from a Nightmare: Ulysses' New Cosmology in 'Circe'."
            Under Submission to James Joyce Quarterly.
 Professional Presentations:
 Kashani, Mahdi. (2016) "A Nebulae of Resonant Possible-Worlds: Postclassical
            Storytelling and the Textual Density in the 21st Century." EFS Symposium.
            University of Alberta.
Kashani, Mahdi, (2014). "Nightmare Meets Singularity: Ulysses' Cosmology in
            'Circe'." Paper Presented at the annual conference of The Korean Society of
            British and American Fiction, Seoul, Korea.
            http://baf.or.kr/board/bbs/board.php?botable=bafuni&wr_id=62
Kashani, Mahdi. (2013) "Beyond Postmodern Narratology: A Chaotic Aesthetics." English
            Department Annual Conference. Korea University.
Creative Writings:
 Kashani, Mahdi. "Lost in Time," and "Moon, Again," Poems published in Wither and
            Blossom. GSEC, EFS University of Alberta. 2016.
Kashani, Mahdi. Dobare Mah (Moon Again). A Collection of Poems in Farsi.
            Mashhad: Butimar Pub. 2012.
Kashani, Mahdi. Az Ruzi Ke To Rafti (Since You've Gone). A Collection of Poems in Farsi.
            Mashhad: Butimar Pub. 2011.