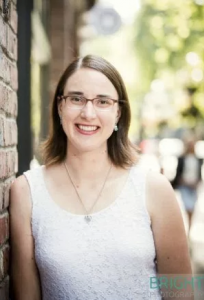 What is your occupation?
Blogger and Mom
What steps did you take to become a blogger?
I completed a B.A. in English at Concordia in 2006 because I knew I wanted to be a writer. I didn't know exactly what this career might look like, just that I didn't want to do journalism. After finishing my degree, I took a job as a research assistant and then as an editor. I also started a blog as a way to encourage myself to write, because it gave me a place to put my writing and an audience to read what I wrote (I hoped).
Two years after graduation, my first daughter was born and I became a full-time mom. My blog became a place to chronicle my journey into motherhood and to connect with other moms. As the first of my friends to get married and have babies, I found myself lonely at times. Slowly, over the next few years, I realized the importance of finding a tribe of moms to support me as a mom. As I realized that, my writing and blogging found a focus: to connect moms.
I began networking with fellow bloggers and learning all I could about blogging. I attended blog conferences and took a few blogging courses. Finding a Canadian bloggers group on Facebook played a huge role in my success as a blogger. In this group, I learned from veteran, successful Canadian mom bloggers about best practices and how to build my blog. I completed a second degree in writing, but blogging has remained the focus of my writing to this day. For the past several years, it has been a part-time job that I am able to do from home while also being a mom.
How did your English degree help you get to where you are today?
My English degree has helped me as a blogger in several ways. First, my BA taught me self-discipline and motivation. In university, I learned to budget my time to get my assignments and papers done on time. I set deadlines for myself and met them. As a blogger, I still have to balance my time — not between the demands of five different courses, but between my blog, my children, my husband, the housework, and other commitments.
Second, my degree taught me writing and research skills that are crucial for a blogger. I've read too many blogs that have great topics or subject matter, but the grammar or writing is extremely poor. It's hard to read posts that aren't well written! All the research papers I completed for my history and English classes also taught me how to dig deeper for facts and information, and to value good sources, and to keep looking for more details. My degree thus helps me stand apart from other mom bloggers who came into blogging from a different background.
Finally, my degree helped me learn to be a learner. A bachelor's degree is just a starting point; where you go from there is up to you and there are so many options available. My friends with English degrees have all gone in different directions with their degrees, but I would say that we've all continued to learn and grow since then. My profs all demonstrated a love of learning that has stuck with me since I've left. When I was doing my B.A., I couldn't have predicted that I'd someday call myself a blogger, but looking back, I am grateful for my degree and what I learned there.
Update: Bonnie has published two books, North American Martyrs Kids Activity Book (2019) and Canadian Saints Kids Activity Book (2020).