Dr. Danielle Lisboa, Orchestral Conductor
Brazilian-Canadian Danielle Lisboa leads an active career as orchestral conductor, music educator, and scholar, regularly conducting community and professional ensembles.
On arriving in Canada in 2008, she became Orchestra Toronto's first apprentice conductor, named assistant conductor two months later and shortly after appointed the orchestra's Music Director and Conductor. During her tenure, Lisboa became known for her cutting-edge programming and public engagement, resulting in a steep rise in audience numbers. Her vision and dynamic leadership took Orchestra Toronto into new paths for outreach and youth initiatives, including the Marta Hidy Concerto Competition and the popular annual children's concerts. In 2013, she was nominated for the Heinz Unger Award for Emerging Canadian Conductors presented by the Ontario Arts Council. Two years later she lead Bellus Barbari, the Toronto Women's Symphony Orchestra, in its inaugural Ontario tour.
Lisboa holds a doctorate in orchestral conducting from the Eastman School of Music University of Rochester and a master's degree from the University of Houston with special emphasis in opera conducting. For two years, she served as assistant conductor to Peter Jacoby at the Moores Opera House being credit with distinguished operatic performances.
She was granted numerous scholarships and awards throughout her career, including the Schissler Conducting Prize and award from the international conducting competition Fundação Oriente held in Portugal.
Lisboa began her professional career as a concert pianist. Her academic studies began at Brazil's largest university, Federal University of Rio de Janeiro, where she founded a chamber orchestra dedicated to promoting music of emerging Brazilian composers. She moved to Edmonton in 2013 to serve as Assistant Professor of Music at Concordia University of Edmonton in the areas of conducting, chamber music, and music theory. Lisboa is former Music Director and co-founder of the Edmonton Metropolitan Orchestra. In the past years, she spearheaded Concordia's first operatic project, developed a string camp for youth and reinstated the Concordia Symphony Orchestra as a new ensemble in the Fall 2017.
Rock Larochelle, Flutist, Membership
Rock Larochelle, originally from St. Paul in Alberta, has been teaching in the Francophone and Immersion schools in Edmonton for the past 29 years. He now works as an educational consultant in the integration of technology for the Conseil scolaire Centre-Nord. Rock is president and co-founder of the Opus@12 Chamber Concert Society, a network of almost 100 amateur musicians offering free chamber concerts in the community. Rock loves to play flute, piccolo and alto flute in musicals when his schedule permits. He has been studying with Liz Koch (Principal Flutist of the Edmonton Symphony Orchestra) for the past 12 years. He has also had the opportunity to study with Sir James Galway for 10 days in 2013 at the International Galway Festival held yearly in Switzerland. He is married to cellist Sharon Toronchuk, they have a daughter (Caroline) and a well-rounded cat named Luigi.
Alan Dunn, Viola
Violist Alan Dunn recently retired from a long career in professional engineering and public service to concentrate on music. He is co-founder, treasurer and past president of the Wye String Ensemble where plays 'cello. He played baroque viola in the La Folia early baroque ensemble, viola in the original Concordia Symphony Orchestra and is an active French-Canadian/Celtic fiddler. Alan has studied under Josephine van Lier, Gillian Caldwell, and various other local string pedagogues as well as having regularly attended the WCAMS, and Wye music camps.
Julia Dolman, Cello
Born in St. Albert, Julia Dolman began playing the cello at age 6. She grew up in a house filled with music and started playing chamber music with her three sisters at an early age. She studied with Grazyna Sobieraj and Diana Nuttall and was an active member of the Edmonton Youth Orchestra and the Kamara Quartet.
Julia received her Bachelor of Music degree at the University of Alberta in 2011, under the direction of cellist Tanya Prochazka. During this time, she discovered a new passion for music history and decided to continue her studies with a Master of Arts in Musicology at the University of Toronto. Her research focused on depictions of music in fiction literature and issues of gender representation in contemporary string quartet performance.
After graduating in 2013, Julia returned to Edmonton, where she now works as a grant writer for the Edmonton Symphony Orchestra & Francis Winspear Centre for Music. In addition to her day job, Julia teaches cello and performs as a solo cellist, with the Bel Suono Quartet and Kitka Quartet, and as part of various other chamber ensembles in the Edmonton area.
Frances Elgaard, Cello
Growing up in Vancouver, Frances began her musical studies on the piano, oboe and recorder family. However, she was always taken by the rich sound of the cello and, after moving to Edmonton, began a study of the instrument with Gillian Caldwell and, currently, with Josephine van Lier. She has been involved in a number of local orchestras, string ensembles and music camps. Maintaining a keen interest in the music of the Renaissance and Baroque, she also devotes time to the study of the viola da gamba family. She is currently playing the bass and treble gambas and, with other players, is dedicated to historically informed performance. Frances has recently retired from an active life in clinical psychology, with a focus on brain injury rehabilitation.
Mitchel Rees, Bass
Mitchel Rees is a born and raised Edmontonian, who currently has finished his Bachelor of Education at the University of Alberta. His love of music began when he was 13 when he first began playing the electric bass in the local heavy metal scene. At the age of 17, he made the switch to the double bass and hasn't looked back since. He is currently pursuing a Bachelor of Music at the University of Alberta.
Mitchel has been the principal bass of the Edmonton Youth Orchestra, University of Alberta Symphony Orchestra, Orbis Symphony Orchestra, and the University of Alberta Symphonic Wind Ensemble. He studied under Ioan Tetel and is currently studying under Jan Urke. He has taught clinics in and around Edmonton, and hopes to spread his love of music to the youth of Edmonton.
Stephanie Wong, Oboe
Stephanie Wong is a multi-instrumentalist who regularly performs on the oboe, baroque oboe, harpsichord and piano. She started piano at the age of 7, but only during graduate school did she begin to play the oboe, having had a desire to get back to playing in a group environment (she played flute in the school band). She self-taught herself for a while before studying under oboist Beth Levia for the past 8 years. Since then, she has played in numerous orchestras, wind ensembles and chamber groups. After attending the Tafelmusik Baroque Summer Institute, she has focused a lot of her musical activities on early music. She plays the baroque oboe (and other renaissance winds) in Convivencia Canadá, an
ensemble focused on late renaissance/early baroque vocal and instrumental chamber music, and also baroque oboe in Baroque 'n' Hearts, which specializes in instrumental chamber music of the high baroque. As part of the Opus@12 Chamber Concert Society (in which she is Vice-President), Stephanie organizes an amateur chamber music concert series, performing in it many times throughout the year.
Aside from the music world, Stephanie has degrees in math and education, and a doctorate in theoretical and computational chemistry.
Anna Schulz, Violin/Viola
Anna was born in Edmonton and resides on a beef cattle farm south-east of the city. She started playing the violin at age seven under various local teachers. She completed her RCM Gr. 10 in 2015 under Mr. Frank Ho. In 2013, she also took up viola (her favourite). She is currently studying viola under Mr. Clayton Leung and is enjoying exploring the viola repertoire. As part of her musical endeavours, Anna has enjoyed playing in several ensembles and orchestras including the Wye String Ensemble, Opus @ 12, Edmonton Metropolitan Orchestra and a quartet, the Key of A, as well as violin/viola duos whenever she gets the chance. She also enjoys photography and hopes to be able to purse that even more this upcoming year.
Linnea Barisoff, Violin
Linnea Barisoff has been playing the violin since she was four years old, and piano since she was three years old. Linnea has studied with many violin teachers including Wendy Herbison, Josette Laforge, and Thomas Schoen and has studied piano and music theory with Tammy Francis. She has performed violin in numerous orchestral groups including The Rossland Light Opera Players in Rossland, BC, and The Nelson Community Opera and the Nelson Choral Society in Nelson, BC. In addition, Linnea has performed on the piano and the violin in the Kootenay Festival of the Arts for many years and also plays "fiddle" music.
In addition to music, Linnea is also interested in science, earning a Bachelor of Science in Biology and a Bachelor of Science Honors in Pharmacology from the University of Alberta. Linnea is also an avid volunteer, entertaining residents at long-term care facilities by playing familiar songs on the violin, and, during summer vacations, participating as a member of the Executive Committee for the Castlegar Communities in Bloom.
Karine Desforges, French Horn
Karine Desforges has played the French Horn since she was 12 years old. She performed with the Youth Symphony in Montreal for 6 years, and was a musician in the reserve band for 2 years. Karine's military life brought her to Kingston in 2007 and she has been playing with Orchestra Kingston and BrassWerks. She has now moved to Edmonton and is playing with the MET and CSO.
Daniel Graf, Violin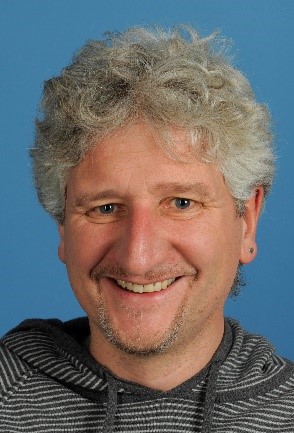 Born in Lucerne, Switzerland, Daniel Graf moved to Edmonton only a few years ago to take up a position at the University of Alberta. Daniel completed his undergraduate and graduate PhD studies in Biology, Biochemistry and Immunology at the Swiss Federal Institute of Technology, Zurich Switzerland. His passion for biology has taken him from Zurich to Berlin, London, Athens, and now Edmonton. At the same time, his violin has never been far, which he says has helped him integrate with all the different communities.
Daniel started playing the violin in primary school and since playing in the high school orchestra has joined a variety of different symphony and chamber orchestras in Lucerne, Zurich, Berlin, and London. He now has discovered Edmonton as the ideal place to follow his passion for music along with his professional endeavours. He currently plays with Concordia Orchestra, Metropolitan Orchestra and is a regular guest at Opus@12 lunchtime concerts in La Cite Francophone.
Amanda Banister, Violin
Amanda Banister has been playing the violin since age 4. Growing up in a musical family allowed her many experiences playing and performing with her brothers. Upon attending the University of Alberta in 2008 to pursue a Bachelor of Music, Amanda began playing with the Wild Rose String Quartet. With the exception of a year travelling and working abroad, she has played with this ensemble ever since. In 2013, Mrs. Banister began working with the Edmonton Symphony Orchestra as the Education Outreach Coordinator. As part of her job assignment, she helped launch the Youth Orchestra of Northern Alberta. Amanda recently completed her Bachelor of Education and is currently a music specialist at Crawford Plains School.
Rebekah Ney, Violin
Rebekah Ney views music as a gift to be shared. She studied violin in Vienna, Toronto, and Montreal and is grateful for the compassionate investment that each of her violin teachers made in her life: Doris Dorer, Janet Wilchfort, Arkadi Yanivker, and Jonathan Crow. After graduating with a Bachelor of Music and Education from McGill University in 2010, Rebekah accepted a position as Children's Pastor at Crosspoint Church in Edmonton, Alberta. Rebekah loves the unexpected career path that she has ended up on but continues to actively seek out opportunities to play her violin. It was while performing with the chamber-folk group, Dead Red Pine, that Rebekah met her husband. They now live in the Alberta Ave community and feel spoiled getting to participate in so many creative and diverse festivals right in their neighbourhood.
Benjamin Eldon, Double Bass
Double bassist Benjamin Eldon grew up in Chatham, Ontario. He studied double bass under Jeffrey Stokes during his Bachelor of Music degree at the University of Western Ontario, in London, Ontario. He moved to Edmonton in 2009 to complete his Masters in Music degree at the University of Alberta, studying under the supervision of music theorists Henry Klumpenhouwer and Maryam Moshaver. He plays French-style bow, and for several years has changed his tuning on bass from fourths to fifths: C, G, D, A, one octave below the cello. Benjamin also holds a Bachelor of Education degree from the University of Toronto, and currently teaches for Edmonton Catholic Schools in the city. He lives in south Edmonton with his wife Bethany, also a school teacher, and 2-year old miniature Schnoodle, Holly, who enjoys active long walks in the neighbourhood, but falls asleep when her owner plays the cello or double bass.