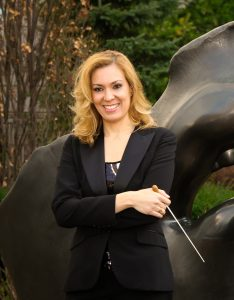 Dr. Danielle Lisboa
---
Orchestral Conductor
Brazilian-born Danielle Lisboa leads an active career as an orchestral conductor, music educator and scholar, regularly conducting community and professional ensembles. Lisboa holds a doctorate in orchestral conducting from the Eastman School of Music University of Rochester and Master's in Orchestral Conducting from the University of Houston with an emphasis in Opera Conducting. For two years, she served as assistant conductor to Peter Jacoby at the Moores Opera House being credited with distinguished operatic performances.

On arriving in Canada in 2008, she became Orchestra Toronto's first apprentice conductor, was named assistant conductor two months later and shortly after was appointed the orchestra's music director and conductor. During her tenure, Lisboa became known for her cutting-edge programming and public engagement. Her vision and dynamic leadership took Orchestra Toronto into new paths for outreach and youth initiatives, including the Marta Hidy Concerto Competition and the popular annual children's concerts. Two years later she led Bellus Barbari, the Toronto Women's Symphony Orchestra, in its inaugural Ontario tour.

Lisboa moved to Edmonton in 2013 and currently serves as Associate Professor of Music at Concordia University of Edmonton in the areas of conducting and music theory. Lisboa is former music director and co-founder of the Edmonton Metropolitan Orchestra. She continues to maintain an active presence in the community as conductor of the Edmonton Philharmonic Orchestra leading the ensemble in outreach concerts to local continuing care hospitals and schools.

Her current research interests encompass topics of women and leadership on the orchestral podium and analysis and transcription of sacred rituals of native peoples of Brazil with recent partnerships and publications in Portugal and Brazil. Lisboa reinstated the Concordia Symphony Orchestra as a new ensemble in fall of 2017. She spearheaded Concordia's first operatic project, developed a summer string camp for youth, and a provincial concerto competition. Last Summer, she led the Orchestral Training and Leadership workshop to mentor young conductors and orchestral players into leadership roles.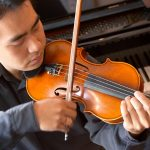 Violinist Frank Ho enjoys a multi-faceted career as a chamber musician, soloist, and pedagogue. His early training was at the Alberta College (now MacEwan University) Conservatory of Music. Further studies with Sidney Harth and Erick Friedman (Yale School of Music) and Yfrah Neaman (Guildhall School of Music and Drama in London, England) led to performance opportunities on three continents . Highlights include concerts at venues such the Royal Festival Hall and the Purcell Room in London; Weill Recital Hall, Alice Tully Hall, and Merkin Hall in New York City; and numerous campuses and concert series in western Canada. Many of his concerts have been featured on the CBC.

He is currently a faculty member of the MacEwan University Conservatory of Music, and sessional violin instructor at King's University and Concordia University of Edmonton. Frank is an active adjudicator nationally and internationally–most recently as a member of the international jury panel for the 2019 Hong Kong Music Schools Festival–as well as a member of the College of Examiners for the Royal Conservatory of Music. He is currently the concertmaster of the Concordia Symphony Orchestra. A sought-after private teacher, many of his students are previous prizewinners of local, provincial, and national competitions; in 2017, two of his students were chosen to perform at Carnegie Hall in New York City through the American Protégé International Competition. Since November 2019, he has been the president of the Alberta String Association.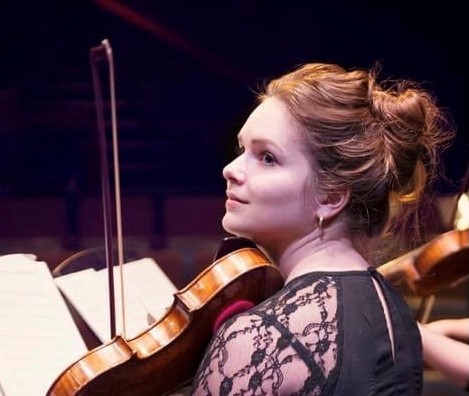 Marie Krejcar
---
Principal II
Born into a musical family, Marie only developed an interest in music at age 10 when she picked up the violin and fell in love. Along with participating in a small community orchestra, Marie also played chamber music with her siblings. Coming from a small town in Northern Alberta, violin lessons were not always available in the region but with the help of community, online violin lessons, music teachers, and self-teaching, Marie was invited to perform for the Lieutenant Governer General of Alberta, Pinchas Zukerman, and the NACO during their Canadian tour of 2002.

In her teens, Marie moved to the Czech Republic where she lived with her grandparents and studied for several years at the music conservatory in Ceske Budejovice under Tuula-Sivula Vacek.

Returning to Canada, Marie received her Bachelor of Music degree at the University of Alberta in 2012, studying under Guillaume Tardif. During this time Marie also worked as a violin instructor and a substitute violinist with the Edmonton Symphony Orchestra.

After graduating, Marie continued to be an active performer, teacher, and substitute violinist before moving to Ottawa with her husband. Once more in Edmonton, Marie works as a legal assistant in the health law sector as well as continuing to work as a substitute violinist with the Prince George Symphony Orchestra, the Stringbeans Quartet, and other ensembles throughout the Edmonton region and Alberta.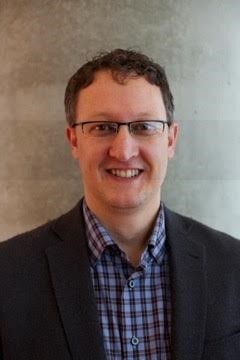 Darrell Soetaert
---
Principal Viola
Born in rural central Alberta Darrell grew up in a very musical family and community. He began playing the violin at the age of twelve after receiving his first instrument. While growing up Darrell studied the flute in junior high band and began playing the piano. His violin teachers have included Leona Wood, Jennifer Bustin, and Guillaume Tardif. He has continued to stay involved in his boyhood community by playing for such theatrical productions as 'Mary's Veil,' 'Lost Apostle', and 'The Park Bench.'

Darrell graduated with his Bachelor of Music degree from the University of Alberta. While attending school Darrell received the Jason Lang Memorial Scholarship, Beryl Barnes Memorial Award, Dale Macmillan Memorial Scholarship, Tony Lefebvre Memorial Scholarship, and the Woodgrove Unifarm Local Scholarship. He studied violin in his first two years with Guillaume Tardif and then with a leap of faith picked up a viola and began studying with Aaron Au and Charles Pilon.

Darrell has played in the University Symphony Orchestra, Academy Strings Orchestra, and Edmonton Pops Orchestra. He maintains a busy teaching and performing schedule in the Edmonton area and permanently occupies the viola chair in the Wild Rose Quartet, which he founded in 2008.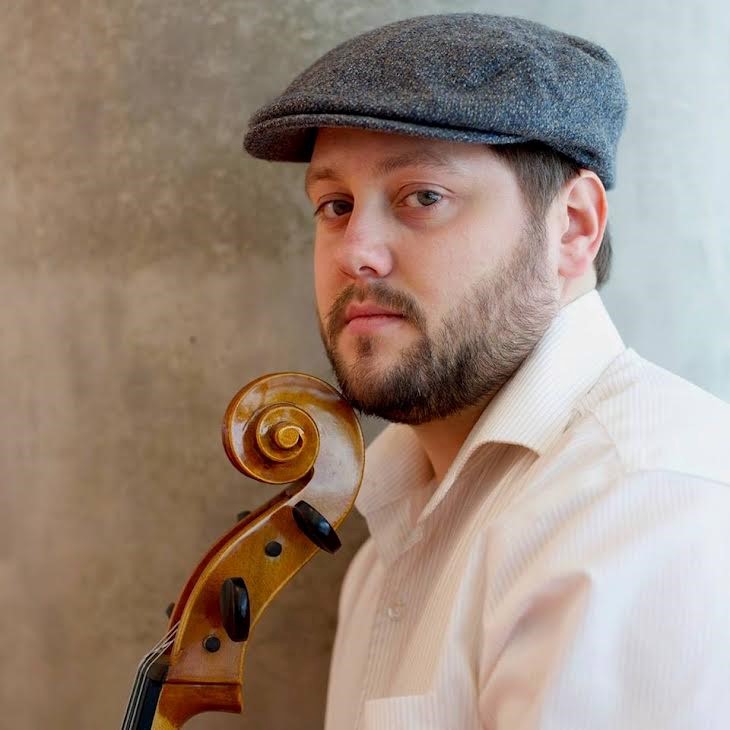 John Fedor
---
Principal Cello
Born in Edmonton, John Fedor began his cello studies at the age of ten with Josephine van Lier. He received his Bachelor of Music Degree from the University of Alberta in 2010, under the direction of cellist Tanya Prochazka. From 2009-10, John performed as a member of the Symphony Orchestra Academy of the Pacific, studying under Katinka Kleijn of the Chicago Symphony, and Ariel Barnes, principle cello of the Vancouver Opera Orchestra. John also completed the Symphony Orchestra Academy of the Pacific conductors program in 2010 and 2011 under the direction of Arthur Arnold of the Netherlands. John is also a current member of the Wild Rose String Quartet, established in 2008.

​​From 2008-12, he worked with the Edmonton Public School Board Music Enrichment Program as an instructor and conductor. John also spent 9 years as director and conductor for the St. Martin Children's String Society in Edmonton. In 2014, John received his Bachelor of Education Degree from the University of Alberta. Since then, he is currently employed with the Edmonton Public School Board as an Elementary Music Specialist.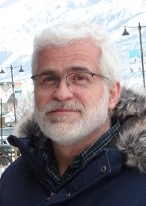 Rock Larochelle
---
Flute, Communications, Librarian
Rock, originally from St. Paul, Alta., has taught in Francophone and immersion schools for 30 years. He now works part-time as an educational consultant. As well as being a flutist with the Concordia Symphony Orchestra, he is also one of the founders of the Opus@12 Chamber Concert Society, which offers free concerts in the rotunda of La Cité francophone. Rock has been studying for the past 17 years with Elizabeth Koch (principal flutist of the Edmonton Symphony Orchestra) and also had the opportunity to study with Sir James Galway in Switzerland in 1990 and 2013. He is married to Sharon Toronchuk (cellist) and they have a daughter, Caroline (pianist and mezzo-soprano), in addition to their well-rounded cat Luigi.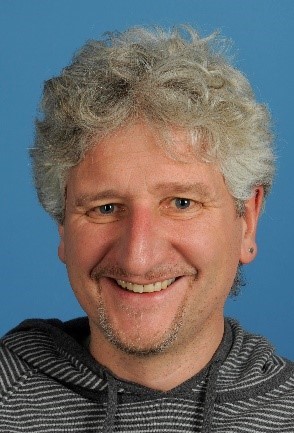 Born in Lucerne, Switzerland, Daniel Graf moved to Edmonton only a few years ago to take up a position at the University of Alberta. Daniel completed his undergraduate and graduate PhD studies in Biology, Biochemistry and Immunology at the Swiss Federal Institute of Technology, Zurich Switzerland. His passion for biology has taken him from Zurich to Berlin, London, Athens, and now Edmonton. At the same time, his violin has never been far, which he says has helped him integrate with all the different communities.

Daniel started playing the violin in primary school and since playing in the high school orchestra has joined a variety of different symphony and chamber orchestras in Lucerne, Zurich, Berlin, and London. He now has discovered Edmonton as the ideal place to follow his passion for music along with his professional endeavours. He currently plays with Concordia Orchestra, Metropolitan Orchestra and is a regular guest at Opus@12 lunchtime concerts in La Cite Francophone.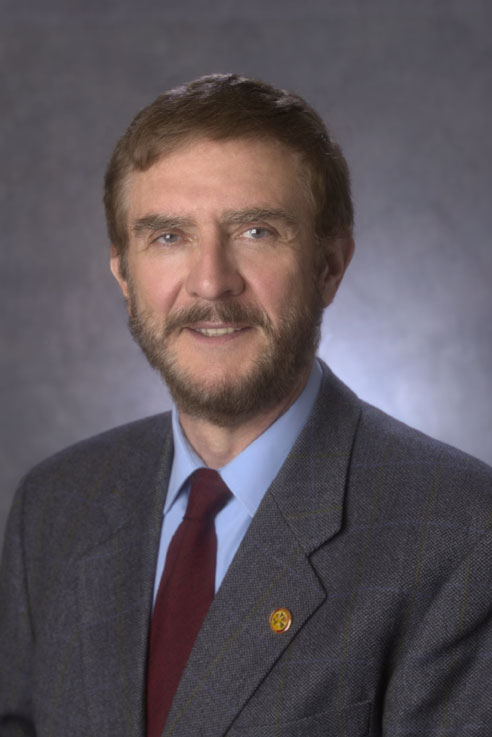 Violist Alan Dunn recently retired from a long career in professional engineering and public service to concentrate on music. He is co-founder, treasurer and past president of the Wye String Ensemble where plays 'cello. He played baroque viola in the La Folia early baroque ensemble, viola in the original Concordia Symphony Orchestra and is an active French-Canadian/Celtic fiddler. Alan has studied under Josephine van Lier, Gillian Caldwell, and various other local string pedagogues as well as having regularly attended the WCAMS, and Wye music camps.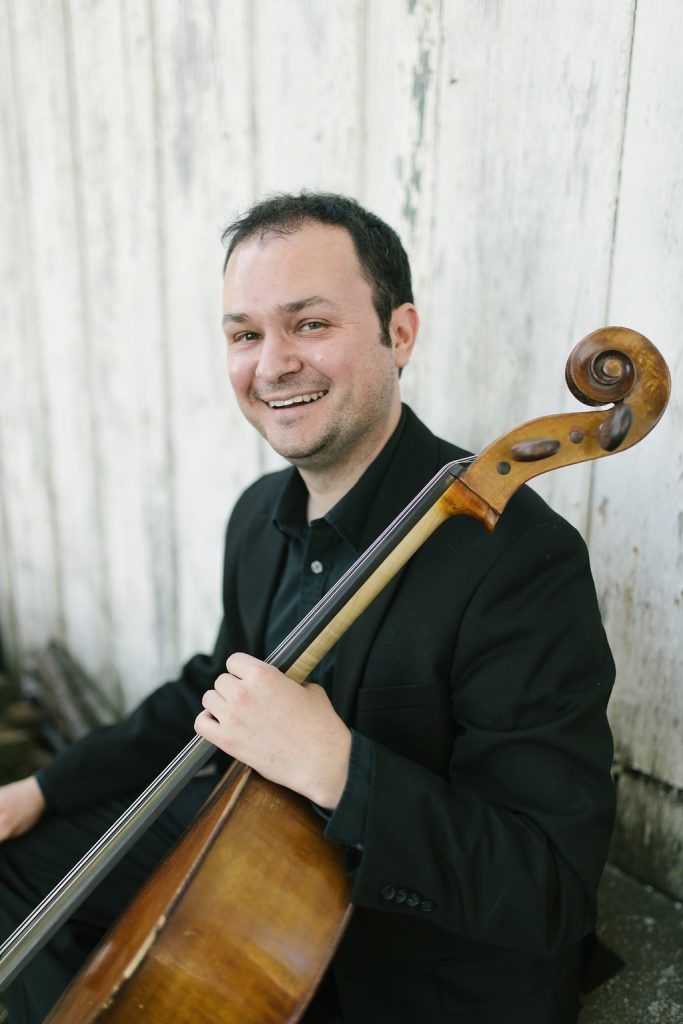 Ryan Hoffman is a cellist with over 15 years of teaching experience, who recently moved to Edmonton from the United States. He has been teaching here since Fall of 2020, and has been active with Alberta String Association, Opus@12 Chamber Music Society, and Concordia Symphony.

Prior to moving, Ryan taught and performed in and around Virginia. He taught both Suzuki and traditional students at several schools, including Eastern Mennonite University and Bridgewater College. He performed in several orchestras, including Altoona Symphony, Fairfax Symphony, Huntington Symphony, and Waynesboro Symphony, and as a chamber musician with Two Rivers Chamber Music and Melodious Strings. Ryan's academic degrees include a Doctor of Musical Arts from James Madison University, a Master of Music from Penn State University, and a BA in Music from Susquehanna University.
Growing up in Vancouver, Frances began her musical studies on the piano, oboe and recorder family. However, she was always taken by the rich sound of the cello and, after moving to Edmonton, began a study of the instrument with Gillian Caldwell and, currently, with Josephine van Lier. She has been involved in a number of local orchestras, string ensembles and music camps. Maintaining a keen interest in the music of the Renaissance and Baroque, she also devotes time to the study of the viola da gamba family. She is currently playing the bass and treble gambas and, with other players, is dedicated to historically informed performance. Frances has recently retired from an active life in clinical psychology, with a focus on brain injury rehabilitation.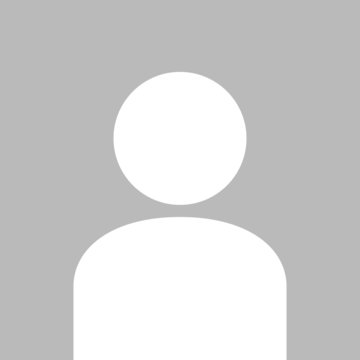 Sharon's musical career as an amateur cellist began after graduating from her science degree (nursing). She wanted to share positive experiences with the elderly and/or ill and to nourish her soul from the occasional burnout due to work or life stress. She has enjoyed many years of lessons with many gifted and generous professionals and has been fortunate to perform with many amateur musicians and orchestras in Edmonton and area, including the Edmonton Philharmonic, Nova Musica, Wye Strings and the Edmonton Medical Professions Orchestra (TEMPO). Currently, Sharon is a member of the Concordia Symphony Orchestra and Opus@12 (an amateur performance society) which she co-founded with her husband Rock (teacher and flutist). They not only share the joy of music, but are also proud of their daughter Caroline and Luigi, an exuberant and strong-willed house cat. Sharon's other passions include adventurous nature hikes in the river valley, simple flower and vegetable gardening. She enjoys staying healthy by cooking and exercising with Wii Fit, Zumba and YouTube classes like Plyojam, BollyX. Her favorite quote is from Antoine de Saint-Exupéry (The Little Prince): "It is only with the heart that one can see properly; what is essential is invisible to the naked eye." Sharon would like to thank you for participating in today's musical journey.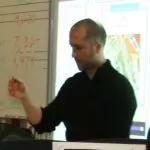 Benjamin Eldon
---
Double Bass
Double bassist Benjamin Eldon grew up in Chatham, Ontario. He studied double bass under Jeffrey Stokes during his Bachelor of Music degree at the University of Western Ontario, in London, Ontario. He moved to Edmonton in 2009 to complete his Masters in Music degree at the University of Alberta, studying under the supervision of music theorists Henry Klumpenhouwer and Maryam Moshaver. He plays French-style bow, and for several years has changed his tuning on bass from fourths to fifths: C, G, D, A, one octave below the cello. Benjamin also holds a Bachelor of Education degree from the University of Toronto, and currently teaches for Edmonton Catholic Schools in the city. He lives in south Edmonton with his wife Bethany, also a school teacher, and 2-year old miniature Schnoodle, Holly, who enjoys active long walks in the neighbourhood, but falls asleep when her owner plays the cello or double bass.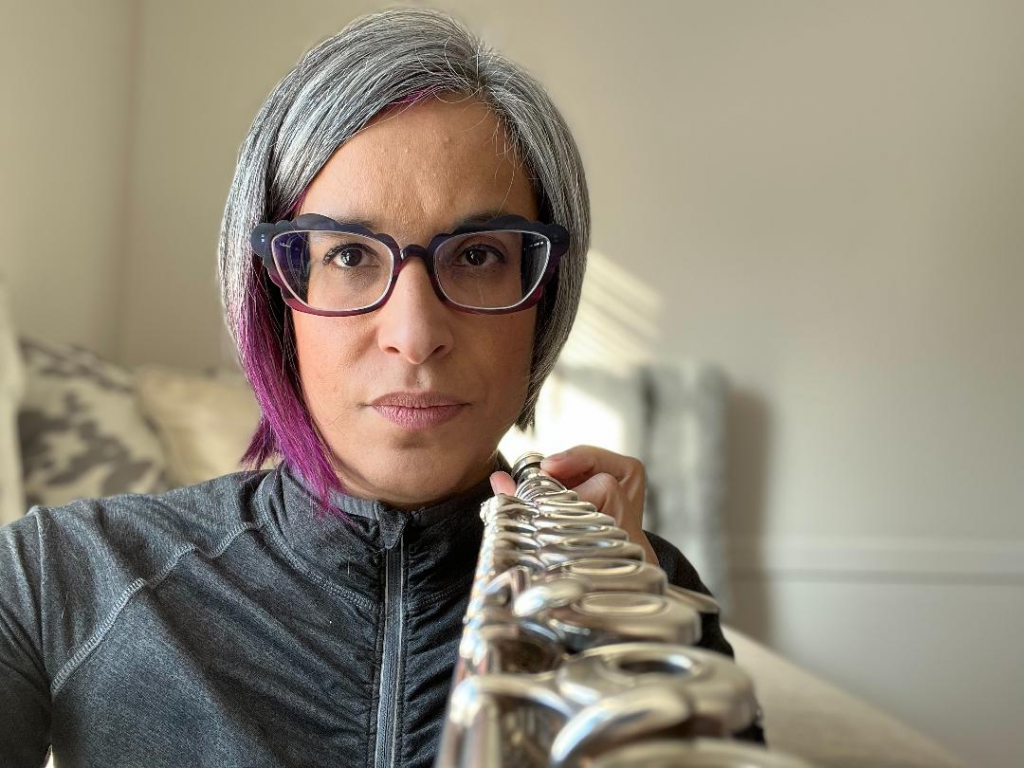 Originally from Ontario, Jennifer Gregory started playing the flute in high school and continued her music studies through completing degrees at the University of Western Ontario (Bachelor of Music History) and at the University of Alberta (Master in Arts for Ethnomusicology). While professionally, Jennifer works in emergency management, she continues to stay musically active. She has played with many community ensembles in Edmonton, including Festival City Winds, Edmonton Metropolitan Orchestra and now with Concordia Symphony Orchestra. Jennifer also enjoys working with community productions of operas and musicals, for groups like Pop Goes the Opera, Walterdale Theatre, and Foote in the Door Productions. Most recently, she's played in productions of Into the Woods and Beauty and the Beast.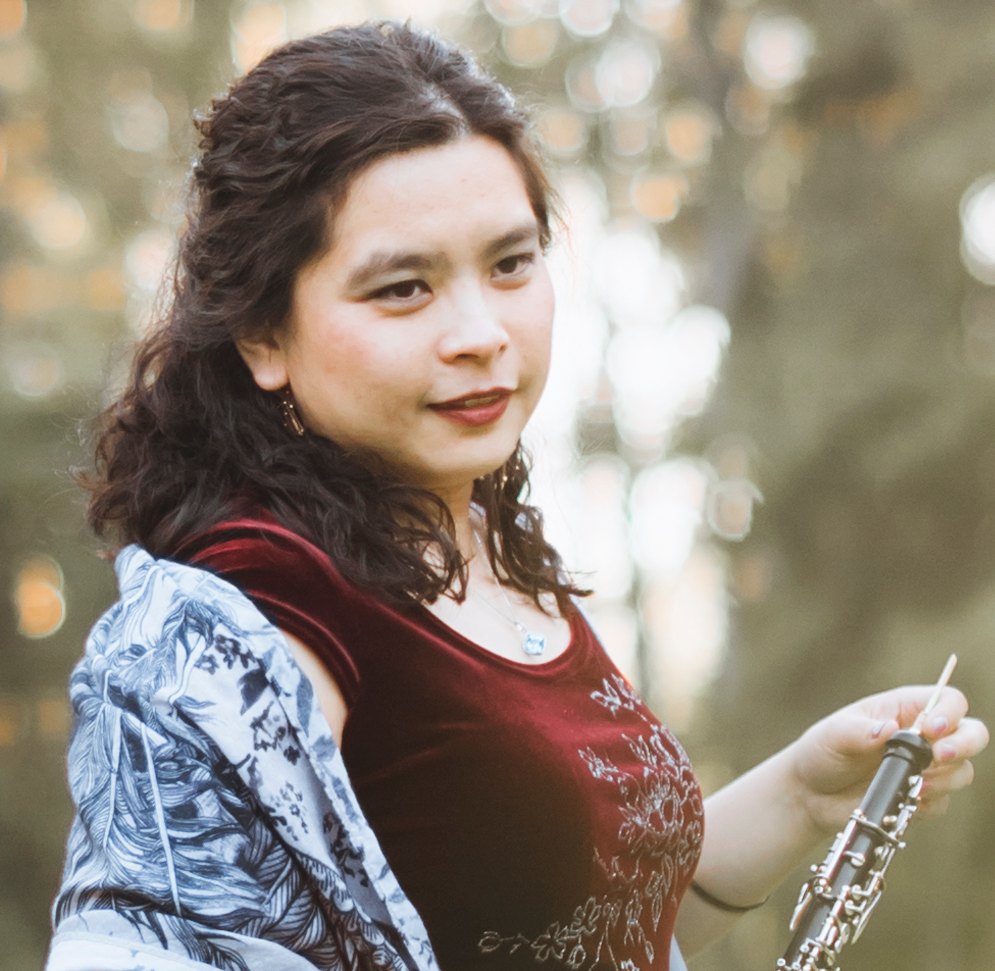 Stephanie is a third-year music student at CUE. She is an oboist, pianist and harpsichordist, specializing in early winds. She started playing the oboe during her former life as a research scientist and later took up the baroque oboe, before finally deciding to pursue a career in music. Stephanie is principal oboe in Concordia Symphony Orchestra and is an active chamber musician. She is vice-president of Opus@12 Chamber Concert Society and is in a number of ensembles, including Convivencia Canadá. She is recipient of the NSERC CGS Scholarship and has publications in the Journal of Chemical Physics and Chemical Physics Letters.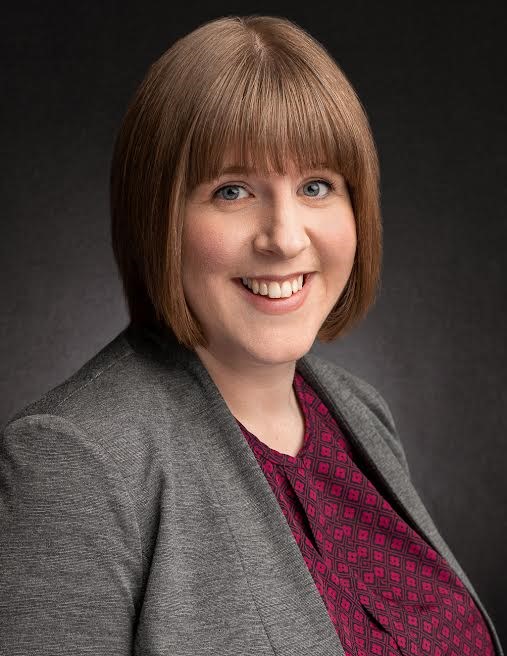 Amber Campbell is originally from Red Deer, Alta., and has a master of music degree in clarinet performance from the University of Alberta. During university, she studied with Jei Yin, Charles Hudelson and Jeff Campbell. Amber played clarinet in the Edmonton Youth Orchestra, Symphonic Wind Ensemble, and University Symphony Orchestra, and now plays with the Concordia Symphony Orchestra. She also earned her CA designation and works full-time as an accountant. Amber enjoys spending her free time with her husband, Eric, and son, Sean, both trumpet players, as well as their musical cats Igor (Stravinsky) and Dmitri (Shostakovich).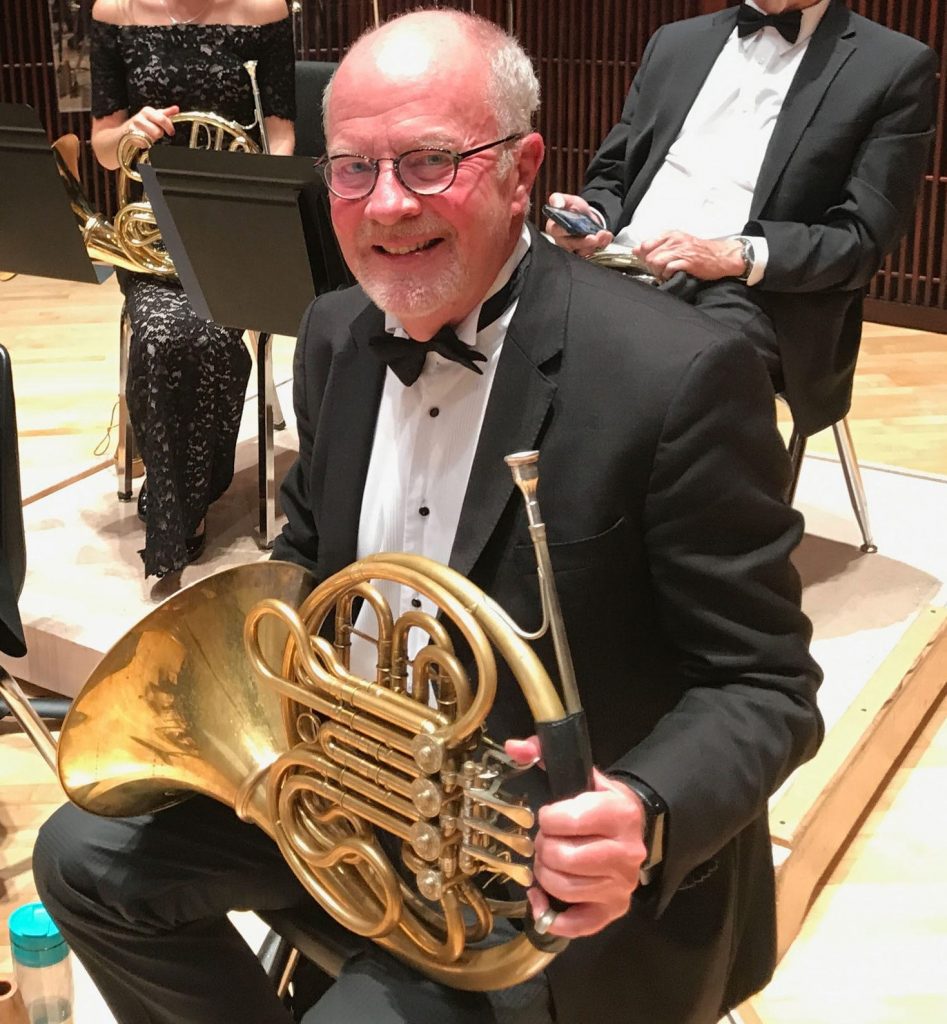 Ross is a pathologist at the Royal Alexandra Hospital and father of five children. He has played with the Calgary and Edmonton youth orchestras, Concordia Orchestra in Montreal and has played professionally as assistant to the Calgary Philharmonic horn section (1977-78) and the Calgary Stampede Grandstand Show. He recently performed with the World Doctors Orchestra as principal and second horn in Dubai, Paris and Houston. He continues to develop an interest in historical performance by learning how to play antique horns.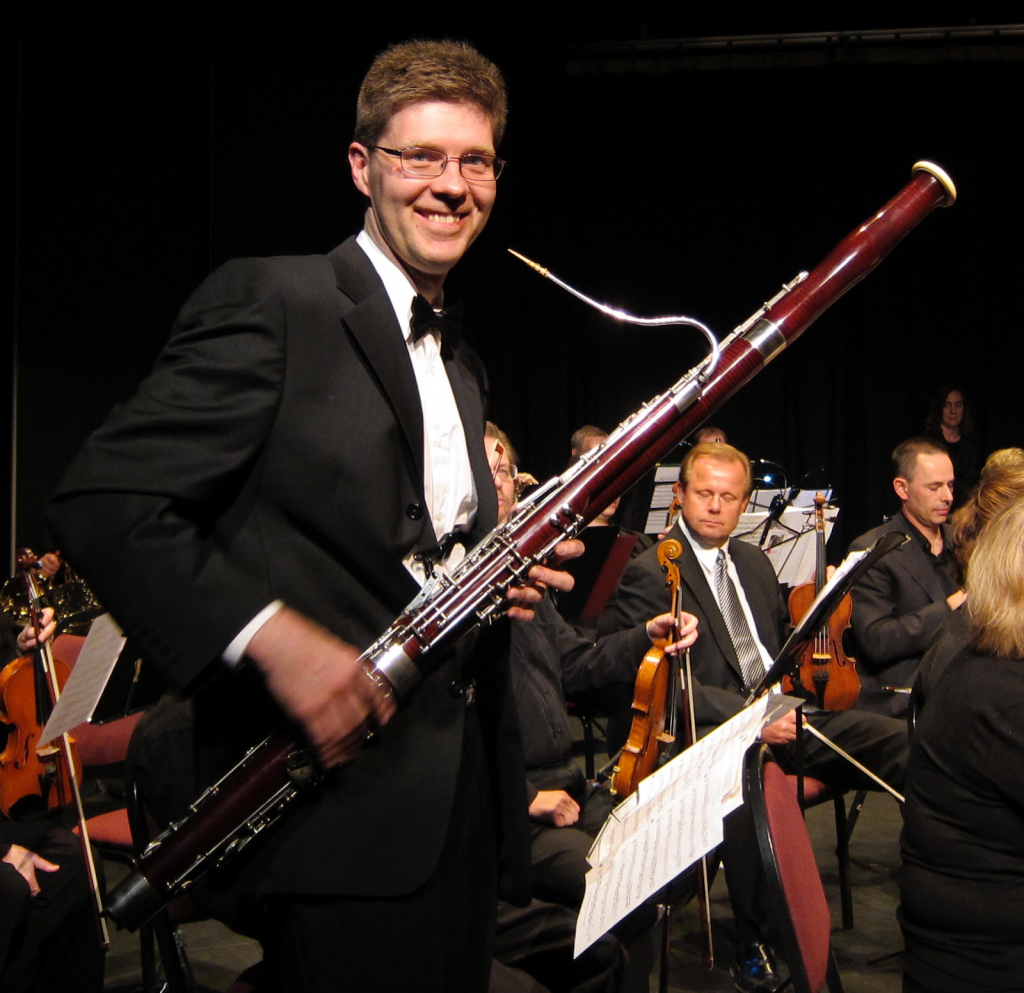 Doug started bassoon in junior high school in order to join the orchestra and learn what all those keys did. He studied with John Cambell in Los Angeles and Matt Howatt in Edmonton. He has performed with the Concordia Symphony, Nova Musica, Edmonton Philharmonic, Wye Strings, the Edmonton Mozart Festival, and the University Symphony Orchestra. The photo is from his performance of the Mozart Bassoon Concerto with Nova Musica in 2011. He is a scientist, consultant, husband, and father of two.