Concordia University of Edmonton's "Theatre at CUE" produces two mainstage productions each academic year – one in the Fall (October/November) and one in the winter (March).
Each mainstage production is directed by either a faculty member or a guest director from Edmonton's professional theatre community, alternating between classical and contemporary theatre productions. Every second year, one of those productions is a musical. Auditions are open to all CUE students, and those with the appropriate drama prerequisites can gain credit for their participation in the productions, either as performers or part of the technical team (Drama 307/308).
CUE's independent student drama club, Green Thespians Collective (GTC), also sponsors a student directed Drama Festival late in the Fall term as well as a Fine Arts Festival of Theatre, Dance, Music and Research presentations late in the Winter term.
In 2019, we started The Fringe at CUE in partnership with Wishbone Theatre, where we presented Bluebirds by Vern Theissen as part of the Edmonton Fringe Festival. As we return to theatre post-covid we hope to continue to partner with professional theatre companies to offer our students the opportunity to work with theatre professionals and present their work as part of the Edmonton Fringe Festival.
If you are interested in participating in CUE's thriving theatre community, see the Events Calendar for dates or email Drama Program Coordinator Glenda Stirling, glenda.stirling@concordia.ab.ca.
---
Upcoming Productions
Chrysothemis by Meg Braem
October 28-30 and November 4-6, 2022
Chrysothemis and Electra have returned home to discover their father, King Agamemnon, murdered by their anorexic and withdrawn mother. Electra craves revenge while Chrysothemis is starving for peace. Using Greek culinary tradition and the events of Aeschylus' tragic trilogy "The Oresteia" as a jumping-off point, the play explores the many appetites that drive us. Set in the midst of the murders of King Agamemnon and Queen Clytemnestra, this is the imagined story of Chrysothemis, the lost daughter in the house of Atreus. She is the only child of the myths who does not have a play accounting her voice…until now.
Directed by Patricia Darbasie
Production Design by Josiah Hiemstra
Costume Design by Betty Kolodziej
Movement Coaching by Glenda Stirling
Performances:
Friday, October 28 at 7:30 pm
Saturday, October 29 at 7:30 pm
Sunday, October 30 at 2:00 pm
Friday, November 4 at 7:30 pm
Saturday, November 5 at 7:30 pm
Sunday, November 6 at 2:00 pm
Trish & Al Huehn Theatre, 7128 Ada Boulevard, Concordia University of Edmonton
Winter Term Production TBA
March 10-12, & 17-19, 2023
Directed by Caroline Howarth
---
Past productions
Winter 2022 – Tuck Everlasting – Book by Claudia Shear and Tim Federle; Music by Chris Miller; Lyrics by Nathan Tysen; Based on the novel Tuck Everlasting by Natalie Babbitt – Directed by Michael Peng
Photo Gallery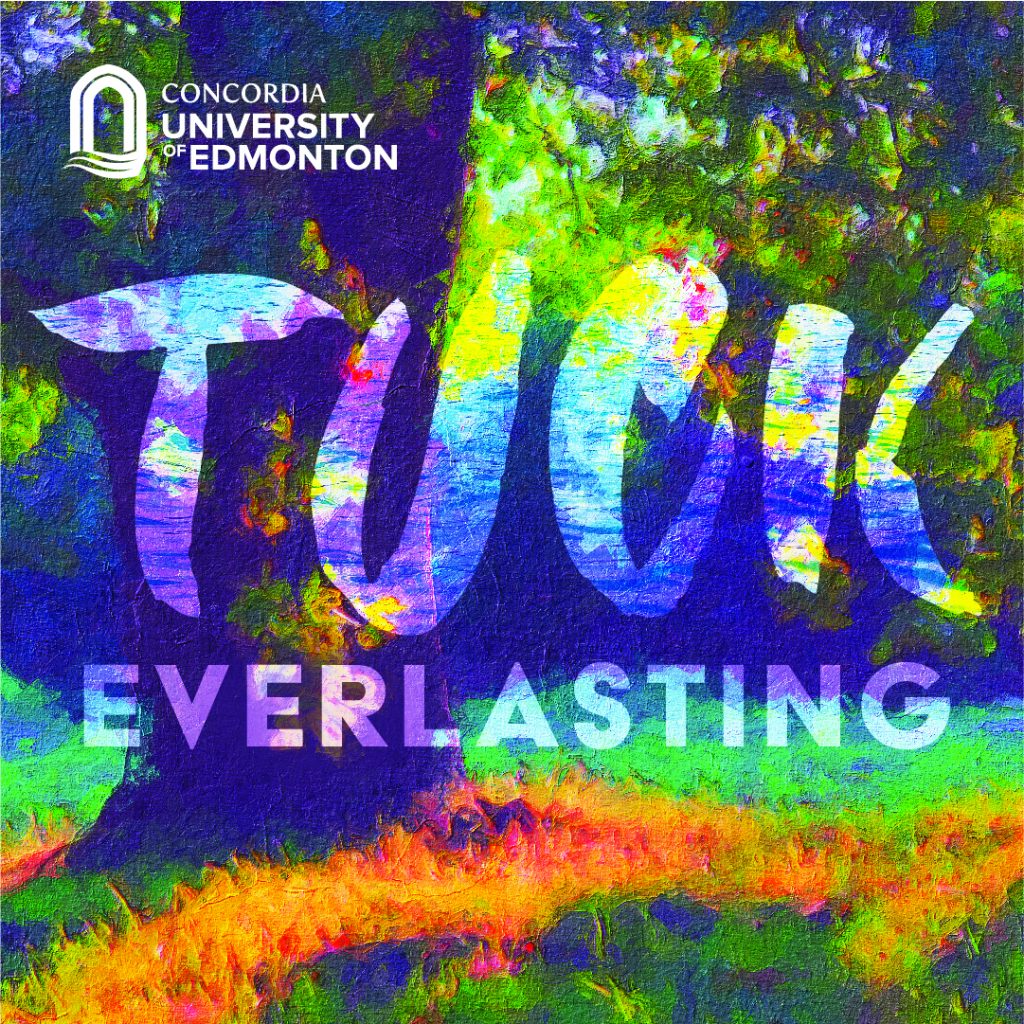 Fall 2021 – The Curious Incident of the Dog in the Nighttime – A play by Simon Stephans based on the novel by Mark Haddon – Directed by Glenda Stirling
Photo Gallery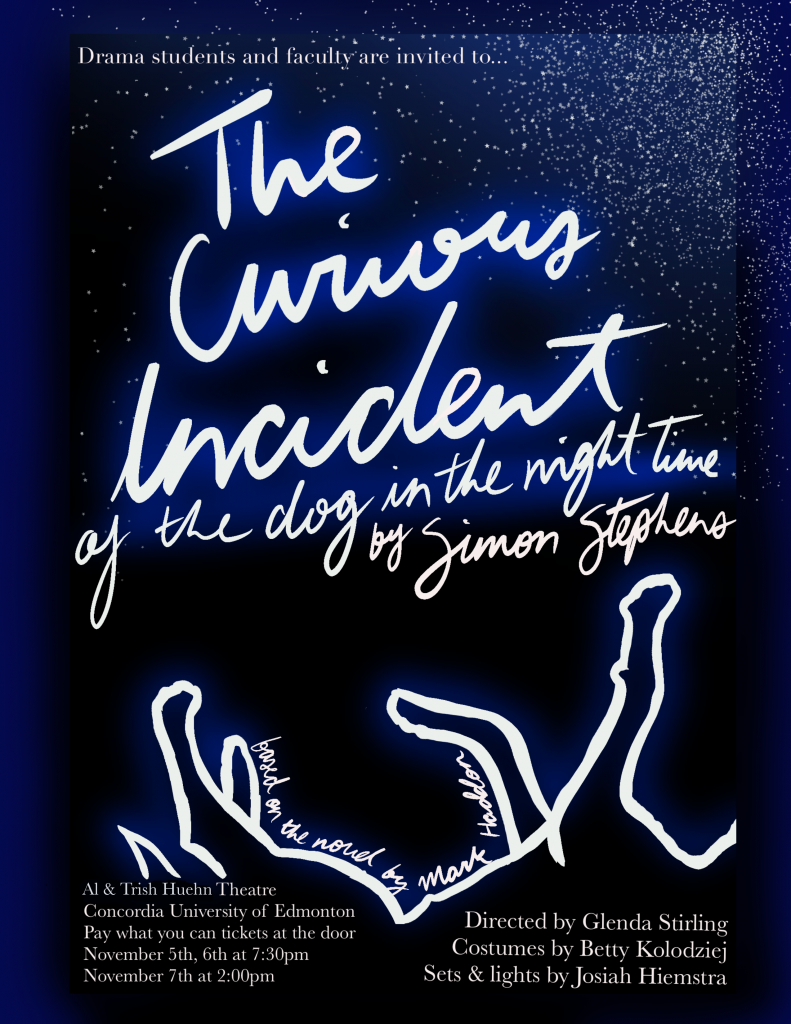 Fall 2020 – Too Much Zoom Makes Us All Go Blind – Directed by Dave Horak
Winter 2020 – Macbeth – By William Shakespeare – Directed by Michael Peng
Photo Gallery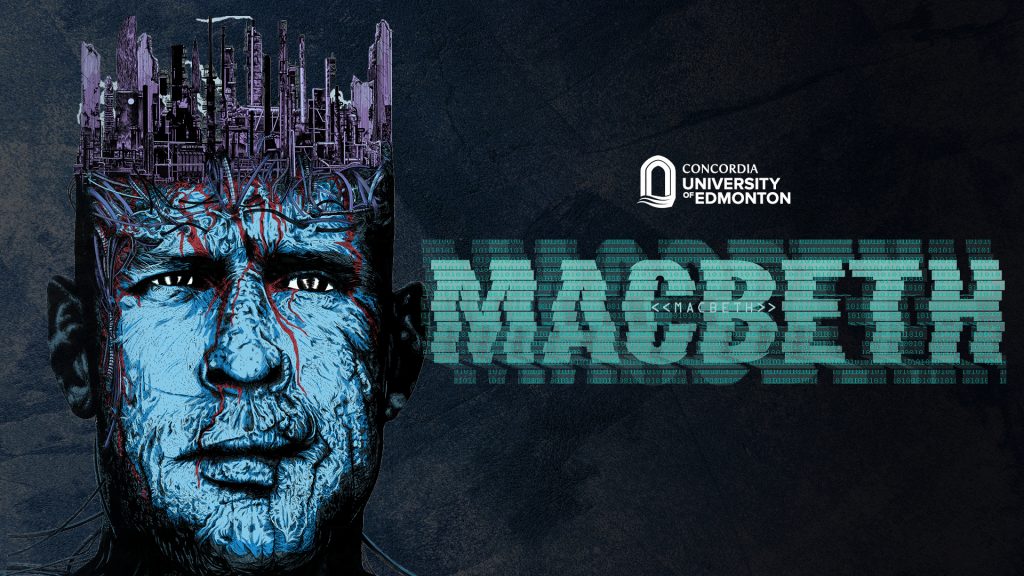 Fall 2019 – Blithe Spirit, by Noël Coward – Directed by Glenda Stirling
Photo Gallery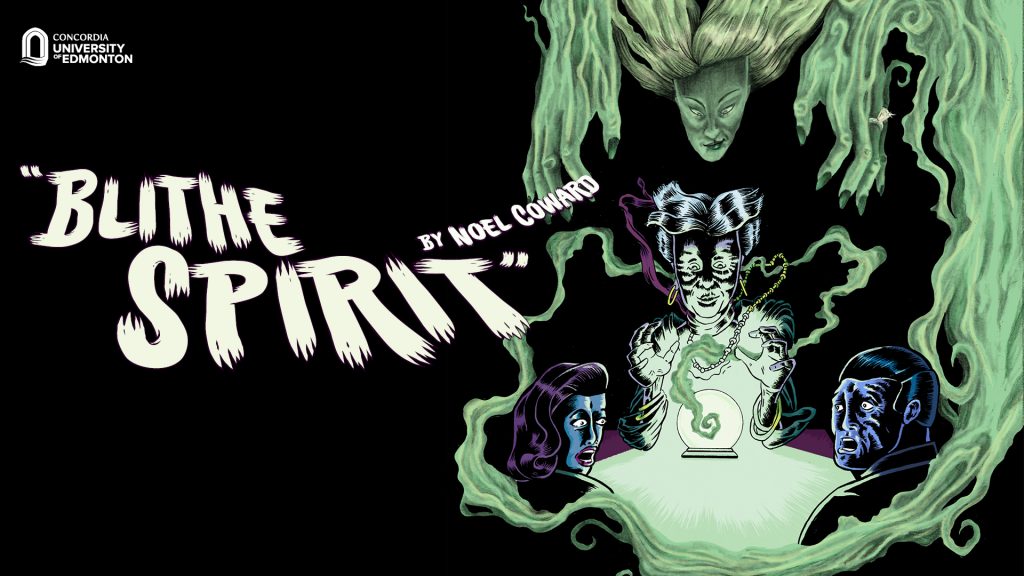 Winter 2019 – The 25th Annual Putnam County Spelling Bee – Music and Lyrics by William Finn Book and Rachel Sheinkin – Directed by Brenley Charkow
Photo Gallery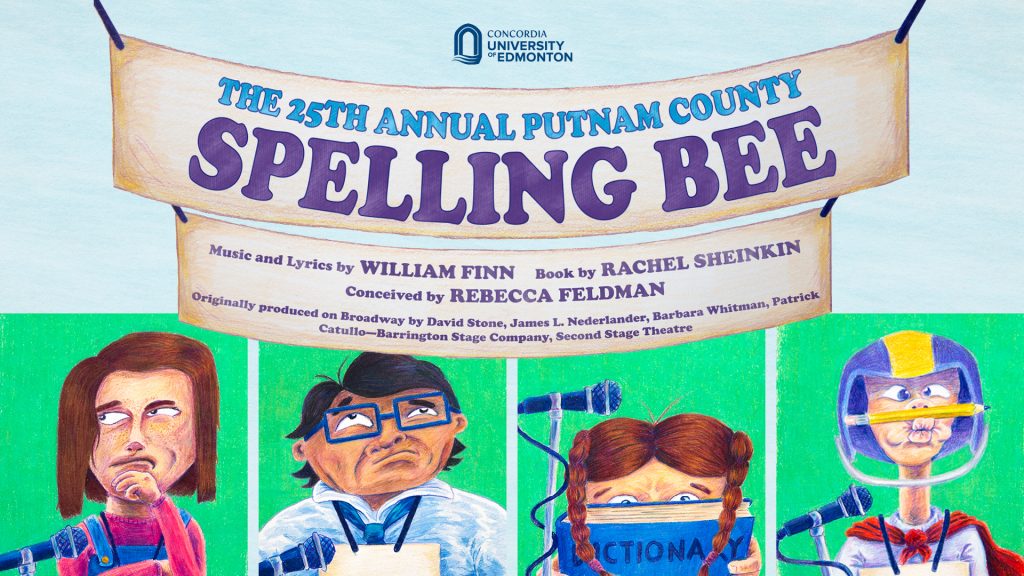 Fall 2018 – Almost, Maine by John Cariani – Directed by Glenda Stirling
Photo Gallery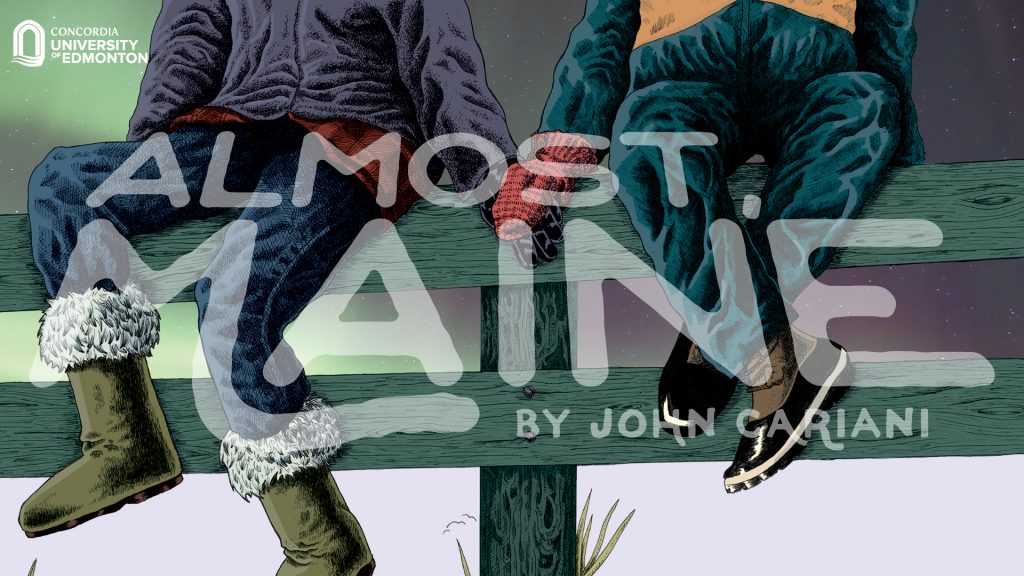 Winter 2018 – The Dada Play by Mieko Ouchi – Edmonton premiere – Directed by Caroline Howarth
Photo Gallery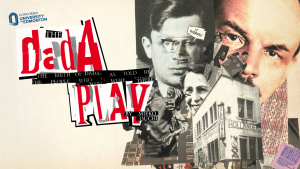 Fall 2017 – Waxworks by Trina Davies – Canadian Premiere – Directed by Glenda Stirling
Photo Gallery
Winter 2017 – Urinetown: The Musical – Music by Mark Hollmann and Greg Kotis – Directed by Michael Peng
Photo Gallery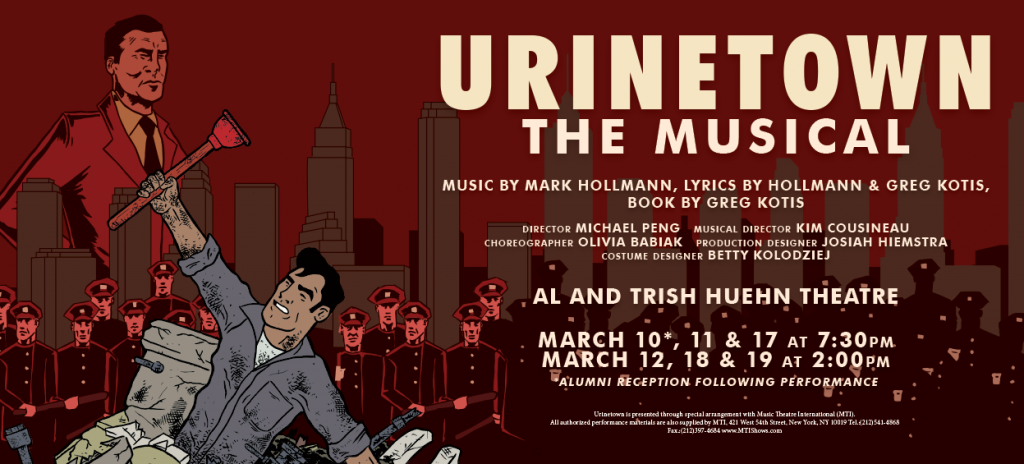 Fall 2016 – Haroun and the Sea of Stories by Salman Rushdie adapted by Tim Supple and David Tushingham, Directed by Caroline Howarth
Photo Gallery

Winter 2016 – A Midsummer Night's Dream by William Shakespeare, directed by Chris Bullough
Photo Gallery
Fall 2015 – The Glorious 12th by Raymond Storey, directed by Caroline Howarth
Winter 2015 – Dido and Aeneas by Henry Purcell and Nahum Tate, directed by Caroline Howarth, Conductor Danielle Lisboa

Fall 2014 – The Secret Garden adapted by Michael Shamata and Paula Wing, directed by Michelle Rios, production design by Josiah Hiemstra
Winter 2014 – Village of Idiots by John Lazarus, directed by Randy Ritz, production design by Josiah Hiemstra
Fall 2013 – The Seagull by Anton Chekhov, translated by Pam Gems, directed by Caroline Howarth, production design by Josiah Hiemstra
Winter 2013 – Joseph and the Amazing Technicolour Dreamcoat by Andrew Lloyd Webber and Tim Rice, directed by Mieko Ouchi, musical director Kimberly Denis, choreographed by Richard Lee, production design by Josiah Hiemstra
Fall 2012 –Innocence Lost: A Play about Steven Truscott by Beverly Cooper, directed by Caroline Howarth, production design by Josiah Hiemstra
Winter 2012 – Harvey by Mary Chase, directed by Randy Ritz, production design by Josiah Hiemstra
Fall 2011 – The Resistible Rise of Arturo Ui by Bertolt Brecht, directed by Caroline Howarth, production design by Josiah Hiemstra
Winter 2011 – Honk by Anthony Drewe and George Stiles, directed by Tara Brodin, musical director Ryan Sigurdson, choreographed by Jason Hardwick, production design by Josiah Hiemstra
Fall 2010 – Unity (1918) by Kevin Kerr, directed by Caroline Howarth, production design by Josiah Hiemstra