Concordia University of Edmonton has two main stage productions each academic year – one in Fall (October/November) and one in Winter (March).
Our productions are directed by a faculty member or a guest director from Edmonton's professional theatre community and every second year we produce a musical theatre piece. Auditions are open to all CUE students, and those with the appropriate prerequisites can gain credit for participation in the productions.
CUE's independent drama club, Green Thespians Collective (GTC), also sponsors a student directed Festival of One Acts in the Fall Term – usually in December – and a Fine Arts Carnival of Theatre, Dance and Music in the Winter term – usually in April.
See the Events calendar for audition and performance dates – select the Drama calendar from the Categories to see only Drama events.
Upcoming
Winter 2018:
Tickets for performances are available at Tix on the Square.
Theatre at CUE invites you to their final production of the 2017/2018 academic year:
THE DADA PLAY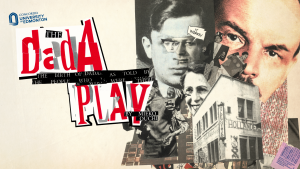 by Mieko Ouchi
Edmonton premiere
Directed by Caroline Howarth
Original music by Preston Gray
at the Al and Trish Huehn Theatre, Concordia University of Edmonton, 7128 Ada Boulevard
Friday, March 9 at 7:30pm*
Saturday, March 10 at 2:00pm
Sunday, March 11 at 2:00pm
Friday March 16 at 7:30pm
Saturday, March 17 at 7:30pm
Sunday March 18 at 2:00pm
*Alumni reception follows the performance.
Featuring:
Nathan Hall, Teagan Kamstra, Rebekah Hatch, Zachary DesRoches, Riley Frazier, Darian King, Irma Alali, Tyler DeWacht, Matt Troppmann, Emily Assenheimer, Kaeli Mask, Aimee Randall, Skyler Fontaine, Alexa Laroque, Bradley Gamborski, and Josephus Lacan.
Choreography by Glenda Stirling
Production Design by Josiah Hiemstra
Costumes by Betty Kolodziej
Stage Managers – Micaela Moore and Kenya Bean
Properties by – Megan Schmidt and Ryan St. Pierre
Lighting Assistant – Tyson Goudreau
THE DADA PLAY highlights the smashing together of two revolutions born on the same small street in Zurich in 1916 during World War I. In a small bar, Hugo Ball, an unknown writer/musician transforms a rag tag gang of exiled avant-garde artists into a collective powerhouse as they come together to form The Dada Art Movement, while in a tiny room above them, Vladimir Ilyitch Lenin, a little known philosopher and thinker, watches their cabarets, drinks his Pernod and plans the Communist Revolution. Set in the multilingual and multicultural chaos of tiny Switzerland, awash in exiles, pacifists, artists, quivering in the shadow of the bloodiest war to date in Europe, we watch the simultaneous birth of modernism in art and the biggest social revolution the world has ever seen.
Past productions
Fall 2017 – Waxworks by Trina Davies – Directed by Glenda Stirling, Sound Design by Louise Campbell, Costume Design by Betty Kolodziej, Set and Lighting Design by Josiah Hiemstra.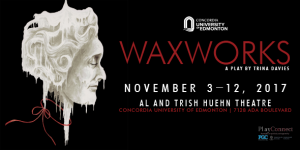 Take a sneak peak at these videos of Waxworks!
Winter 2017 – Urinetown: The Musical – Music by Mark Hollmann, lyrics by Hollmann and Greg Kotis, and book by Greg Kotis. Directed by Michael Peng; Musical Director Kim Cousineau.
Fall 2016 – Haroun and the Sea of Stories by Salman Rushdie adapted by Tim Supple and David Tushingham, Directed by Caroline Howarth, choreographed by student Olivia Babiak
Winter 2016 – A Midsummer Night's Dream by William Shakespeare, directed by Chris Bullough, choreographed by student Olivia Babiak, music composed by student Scott Heatcoat
Fall 2015 – The Glorious 12th by Raymond Storey, directed by Caroline Howarth
Winter 2015 – Dido and Aeneas by Henry Purcell and Nahum Tate, directed by Caroline Howarth, Conductor Danielle Lisboa, choreographed by CUE grad Bethany Brade
Fall 2014 – The Secret Garden adapted by Michael Shamata and Paula Wing, directed by Michelle Rios
Winter 2014 – Village of Idiots by John Lazarus, directed by Randy Ritz
Fall 2013 – The Seagull by Anton Chekhov, translated by Pam Gems, directed by Caroline Howarth
Winter 2013 – Joseph and the Amazing Technicolour Dreamcoat by Andrew Lloyd Webber and Tim Rice, directed by Mieko Ouchi, musical director Kimberly Denis, choreographed by Richard Lee
Fall 2012 –Innocence Lost: A Play about Steven Truscott by Beverly Cooper, directed by Caroline Howarth
Winter 2012 – Harvey by Mary Chase, directed by Randy Ritz
Fall 2011 – The Resistible Rise of Arturo Ui by Bertolt Brecht, directed by Caroline Howarth
Winter 2011 – Honk by Anthony Drewe and George Stiles, directed by Tara Brodin, musical director Ryan Sigurdson, choreographed by Jason Hardwick
Fall 2010 –Unity (1918) by Kevin Kerr, directed by Caroline Howarth