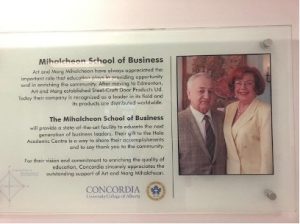 Many people ask, why is the Faculty of Management named the Mihalcheon School of Management?
The School came into existence with the Professional and Continuing Education (PACE) program. It is said that as there were already many Bachelor of Commerce programs, Concordia's was supposed to be different. So, the School took its name from the degree. We find that the terminology of School and Faculty complement one another and are very interrelated. There is not much differentiation between the School and Faculty name use.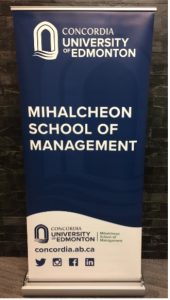 Follow-up questions are often: what is the origin and meaning of Mihalcheon? Then, how do you say Mihalcheon? Well, Mihalcheon is pronounced Mi-hal-cheon.
The school is named in honour of the generosity of Art and Marg Mihalcheon who established Steel-Craft Door Products Ltd. The couple appreciated the role that education plays in providing opportunity and in enriching the community. Given their generous monetary gift to the university starting in 2004, Concordia felt it was a fitting tribute to have the Mihalcheon family name associated with the School and program.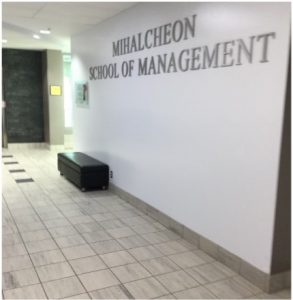 Many business schools are named after individuals or families. Reflecting on the Mihalcheon name the family still represents the values of our school and Concordia community even though both Art and Marg have passed- their legacy lives on.