Creating An Environment for Entrepreneurship And Innovation
The ongoing COVID-19 pandemic has changed the way we learn, teach, interact, and share information. Educators and learners have been forced to pivot and adapt to a virtual environment, and have demonstrated tremendous resiliency.
Innovation Launchpad @ CUE is a program for innovative leaders to help them advance their ideas into innovative solutions. The program employs an objective-based mentoring process with a goal of advancing ideas into reality and enabling CUE members to tackle the multi-disciplinary world we live in. It prepares them to think differently, communicate effectively and most importantly build a network for gurus that leads to success!
The program includes a series of workshops, expert sessions and dedicated support for CUE members. The program is not limited to technical ideas only – any idea is welcome. Be it an app, an innovative recycling solution, a machine learning-based technology, a process, new product line, a public health-related idea such as training for cannabis use etc. The program culminates in a showcase event where the participants present their projects and compete for a variety of prizes.
All the events for 2022 will be virtual to comply with public health guidelines in light of COVID-19 pandemic.
Our virtual 2022 program has two components: an Innovation Sprint and an Innovation Showcase. These components have been intentionally designed to provide students with inspiration and support, and equip them with the tools and knowledge needed to pursue and advance their ideas.
Innovation Sprint:
A six-week program comprising virtual, action-based learning modules, the Innovation Sprint will challenge participants to ask questions, think critically, and build a strong foundation to bring their ideas to life. A facilitator will lead daily modules and guide participants through workshops to gain the skills, knowledge, and confidence needed to brainstorm concepts, prototype solutions, and conduct end-user testing and interviews. Upon completion of the structured modules, the facilitator will be available to answer questions, and provide clarifications and tips to participants.
Innovation Showcase:
Following the Innovation Sprint, participants will have five days to implement learnings and prepare a 5 minute presentation to be shared at our annual Innovation Launchpad Showcase. At the showcase, each participant will present their idea, progress, and next steps to a panel of expert judges from across Edmonton's innovation and entrepreneurship community, and prizes will be awarded. More details to follow.
Applications open January 28, 2022 and closes February 25, 2022.
Maximum number of participants accepted: 15
Innovation Sprint Schedule
Mon Feb 28
Noon-1:30pm
Lean Canvas
Lean Canvas is a 1-page business plan template that helps you deconstruct your idea into its key assumptions
Tue Mar 1
Noon-1:00pm
Optional Support Session
Mon Mar 7
Noon-1:00pm
Identify Your Customers
In this workshop, you will learn some tips and tricks to identify early adopters and understand customer needs
Tues Mar 8
Noon-1:00pm
Optional Support Session
Mon Mar 14
Noon-1:30pm
Investment Readiness Workshop
Tues Mar 15
Noon-1:00pm
Optional Support Session
Mon Mar 21
Noon-1:00pm
Plan Your Test
You will be introduced to tools that can help you develop assumptions regarding your idea and help you pick the optimal prototype
Tues Mar 22
Noon-1:00pm
Optional Support Session
Mon Mar 28
Noon-1:00pm
Test the Prototype
We will help you test the proposed solution using the prototype and/or other testing methods
Mar 29 to Apr 7
Flexible Time Slots Available
Optional Support Sessions (Preparing Your Pitch)
Fri Apr 8
Time TBD
Innovation Showcase
Eligibility and Commitment
1. Only full-time students registered in a program at CUE and recent CUE graduates (graduated in the last 12 months) are eligible to apply and participate in the program. All participants must commit to participating in all program workshops and events online.
2. In addition to the online workshops, participants will be required to meet the goals set during the sprint and for the duration of the program.
3. Participants will be expected to prepare and present a 5-minute presentation at the showcase event.
4. Participants will be expected to prepare a 2.5-minute video explaining the problem they are addressing and how their proposed solution is innovative.
Facilitator Information/Bios
Allan Waine, Program Facilitator
allan@startupedmonton.com
Booking Link
Allan loves kick-starting ideas—from dreams to programs. He brings experience in not-for-profit and cross-cultural educational leadership to Startup Edmonton, where he is responsible for delivering our curriculum in a dynamic and thoughtful way. Allan has experience leading workshops around the world and is excited to sit down with founders and establish their next steps. He is equally passionate about giving back to the community and has been involved in many humanitarian projects over the years. Currently, he teaches citizenship classes to help prepare immigrants to become Canadians. When Allan is not coaching basketball with his son, you will find him playing touch football or cheering on Edmonton's CFL team with his family.
Karla Blonsky, CEO of Biobasix Solutions
Karla Blonsky is the CEO of Biobasix Solutions, a management consulting firm where she has over 20 years of experience with start up and scale up companies in sectors including biotech and healthcare, cannabis and agtech, fintech, data analytics, and robotics. She's also with angel investors and venture capital firms, accelerator programs, and research institutes to commercialize innovative technologies. Karla will be leading the Investment Readiness Workshop
Kathleen Norman, Executive-in-Residence, Innovate Edmonton (Edmonton Regional Innovation Network)
Kathleen's background is in business strategy, environmental design, systems thinking, life cycle assessments, and behaviour change. She has a Bachelor of Commerce from Dalhousie University and a Master of Environmental Design from the University of Calgary. She has supported multiple Canadian startup companies in the roles of Operations Manager and Marketing Manager. In 2019, Kathleen was the Edmonton Innovation Ecosystem Navigator, helping hundreds of early-stage companies with growth strategies and navigating startup services available to new entrepreneurs.
Dr. Isha Katyal, Director, Innovation and Industry
Dr. Isha Katyal is Director, Innovation and Industry at CUE, and has developed a career in the innovation industry by working both in private sectors and post-secondary institutions. She leads the BMO Centre of Innovation and Applied Research as well as the McNeil Centre for Applied Renewable Energy.
In Canada, she first worked as an industry liaison intern at the University of Saskatchewan where she was involved in early-stage technology assessment, marketing early-stage technologies to potential industry partners and business plan development while finishing up her PhD in microbial ecology.
Later, she worked as a technology management officer at TEC Edmonton, a joint venture between the University of Alberta and the Edmonton Economic Development Corporation (EEDC). At TEC Edmonton, she was involved in identifying projects of commercial interest, intellectual property assessment and strategy development, facilitating research collaborations with industry, negotiating licensing agreements for intellectual property and sponsored research and propelling new ventures for the University of Alberta researchers and local Edmonton entrepreneurs.
Prizes
A certificate of participation along with bookstore gift cards, CUE swag and cash prizes for advancing your ideas. More information will be shared closer to the showcase.
We would like to thank our sponsors this year. Sponsors include Startup Edmonton, the Edmonton Regional Innovation Network (ERIN), and the CUE Connects Grant for Community and Cultural Engagement (CCGCCE) administered by the Office of Extension and Culture.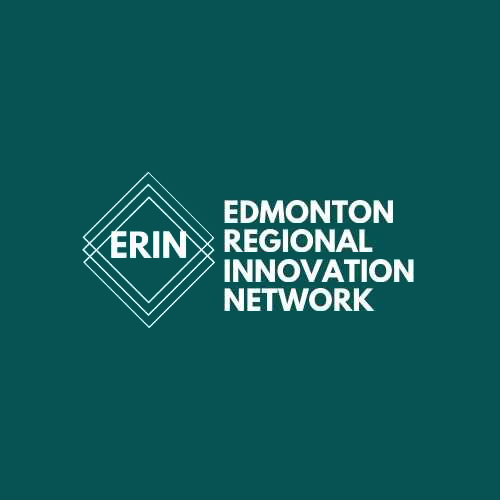 Questions?
Email questions related to this program to innovation@concordia.ab.ca