A Small University Making a Big Impact
---
Concordia University of Edmonton (CUE) is committed to making an impact locally, nationally, and globally. We offer an educational experience that goes further—from lectures and labs to campus events and activities, we prioritize the needs of our students and are dedicated to setting the conditions for our graduates to be active, engaged citizens. While we are a small university, we create career-ready graduates, provide excellent value for taxpayer dollars, and generate a massive economic impact to Alberta.
2021 Quick Facts
---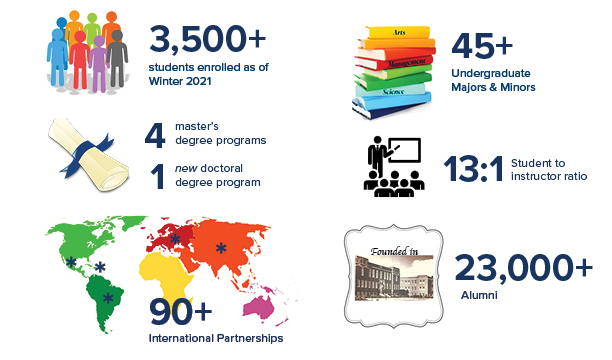 CUE is an independent university; however, we receive operating funds from the government and are committed to being financially responsible, and demonstrating impact and value for the public dollars we receive. As part of the Independent Academic Institution (IAI) sector* of Alberta's post-secondary system, CUE receives approximately 50% of the government funding received by public post-secondary institutions, with the difference recovered through institutional efficiencies and tuition (In 2019-20, 29.7% of our total annual revenue was derived from a Campus Alberta Grant provided by the Government of Alberta in comparison to 54% on average for other post-secondary institutions).
Our objective is to be Canada's pre-eminent small university and, as our provincial post-secondary landscape shifts in response to the forthcoming Alberta 2030 report, we will continue to be an example of an efficient institution focused on providing graduates with in-demand skills to enter and positively contribute to our provincial economy.
*Other IAIs include St. Mary's University and Ambrose University (Calgary), Burman University (Lacombe), and The King's University (Edmonton).
Here's what we're doing today:
We are working closely with industry partners and stakeholders to design programs and courses that meet the changing needs of employers;
We are focusing on ensuring that our campus community is diverse and inclusive, to encourage a wider range of potential students to come to CUE;
We are adapting to the changing landscape that has emerged from the ongoing COVID-19 pandemic;
We are becoming more entrepreneurial, empowering our students to participate in innovative projects and research through our academic and non-academic programs;
We are collaborating with other post-secondary institutions on exciting initiatives, like the recently announced AI Pathways Partnership; and
We are being intentional with our efforts to work with the government and other partners on creating and responding to a long-term strategy to deliver better outcomes for students and all Albertans.
Student Outcomes
---
We are proud of our graduates, who have gone on to make an impact locally, nationally, and internationally. Our data indicates that 84% of our graduates obtain employment soon after graduation, with the vast majority finding employment in their chosen field. Our mission is to produce independent thinkers, ethical leaders, and citizens for the common good, and that in part means that we are deeply committed to producing graduates with in-demand skills applicable across sectors and industries.

Provincial and National Economic Impact
---
We are a small university but make no mistake: We are focused on having a big impact. A recent analysis based on adapted methodology from Brandon University has shown that the IAI sector has a combined annual economic footprint of nearly $840 million, meaning that if Alberta's IAIs did not exist, that amount would be removed from the economy each year.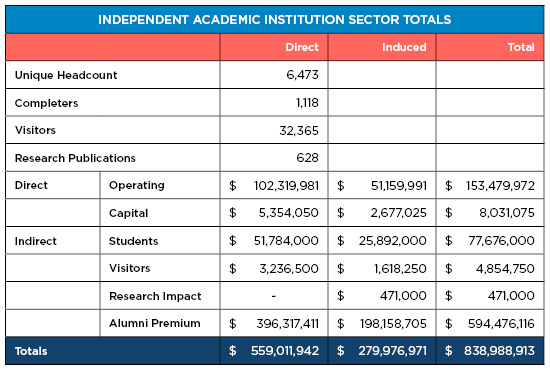 CUE's economic footprint is over $300 million annually. For 100 years, we have been producing graduates who make a positive contribution to the economy, along with our faculty and staff who generate significant local economic activity. When comparing our impact to the public funds we receive, it is clear that our annual economic benefit is approximately 23.5 times greater than that amount. By any standard, that is an exceptional return on investment.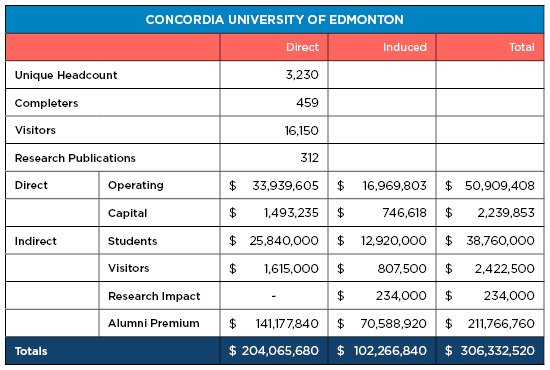 CUE is more than a university—we are a place where students and staff from around the world gather to make a difference. We are a place where anything is possible, and we feel fortunate to have numerous supporters and champions across sectors, including the Government of Alberta. We are ready for the changes that Alberta 2030 is likely to bring, and we are looking forward to a brighter and even more prosperous future as a key stakeholder in an innovative and supportive post-secondary system.
Acknowledgement
---
Thank you to our Alberta Independent Academic Sector colleagues for access to the data and analysis used in this communication.