Reimagining Our Approach To Learning As We Emerge From COVID-19
---
A Message from Dr. Tim Loreman
June 2022
For 100 years, Concordia University of Edmonton (CUE) has been a gathering place for students from around the world who are committed to excellence, global citizenship, and making a difference. We offer an educational experience that goes further — from lectures and labs to campus events and activities, we prioritize the needs of our students and are dedicated to their personal and academic success.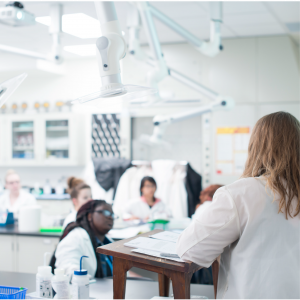 Prior to the pandemic, our approach to learning was focused on in-person interactions. While this primary focus will largely continue, we recognize we have an opportunity to provide flexible learning options for our students and to innovate our education through the use of technology.
Blended delivery at CUE
Blended delivery is a carefully planned, thoughtful approach to instruction that takes advantage of the best features and aspects of online and face-to-face teaching and learning. It integrates technology and digital media with face-to-face interaction and traditional teaching methods, providing the opportunity to customize learning experiences while fostering a sense of community.
The objective of blended learning is to offer engaging, interactive courses that can adapt to changing situations and needs with ease. There is no one-size-fits-all method to blended delivery and courses are shaped by instructors according to the nature of the learning and the needs of the students. There are numerous possibilities and blended learning could include anything from in-person lectures and face-to-face small group working sessions, to interactive online tutorials and drop-in virtual office hours.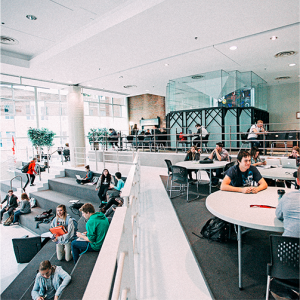 Programs and instructors will continue introducing opportunities to integrate blended delivery into our classrooms while maintaining our ethos and campus culture. Continued face-to-face interaction with peers and instructors will continue to foster and grow the community we know and love. Students will be also able to enjoy the benefits of flexibility, engaging with parts of their courses virtually at the times and places that best suit their lives and needs.
Emerging stronger
CUE is on track to becoming Canada's pre-eminent small university — a small place whose graduates go on to have a big impact locally, nationally, and globally. We pride ourselves on being nimble and innovative, and on the fact that students are at the heart of every decision. I am so proud of how we maintained exceptional education throughout the pandemic and am excited to use what we learned to better meet the needs of our students — we have emerged stronger.
Dr. Tim Loreman
President and Vice-Chancellor