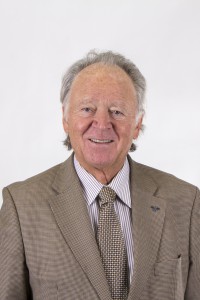 The Honourable Allan Wachowich, Q.C., Hon. LL.D. served as Concordia University of Edmonton's first official Chancellor from 2013 to 2017, as chosen and appointed by the Board of Governors of the university. Acting as a voting member of the Board, he represented the public interest of the university, and presided over the annual convocation and conferring of all degrees.
Born the seventh child to Polish immigrants, His Honour spent the first decade of his life living in rural Opal, Alberta and moved to Edmonton in 1944. "The motivation of my parents coming to Canada was to ensure that their children and grandchildren received an education," he explains.
After graduating from St. Joseph's High School, where he played for the basketball team and served as class president, His Honour completed his Bachelor of Arts and Bachelor of Laws degrees from the University of Alberta.
He was first admitted to the Alberta Bar in 1959, appointed a Judge of the District Court of Alberta in 1974, before becoming Judge of the Court of Queen's Bench of Alberta in 1979. His Honour acted as Alberta's Chief Justice of the Court of Queen's Bench, starting in 2000 and tendered his resignation officially on October 1, 2009. He has been recognized numerous times including receiving an honorary doctorate degree (LL.D.), from the University of Alberta in 2012, the Alberta Order of Excellence in October 2018, and most recently, the Order of Canada in 2019.
Throughout his judicial career, His Honour dealt with most areas of law and received multiple recognitions for his pro bono work. His numerous charity and community involvements include acting as Director for the Task Force on Community Safety, Arbitrator for the Canadian Football League and Chair of the Singer Memorial Scholarship Fund.
The Honourable Allan Wachowich currently lives in Edmonton, with his wife Elizabeth. He is a proud father of four and grandfather of eight.