Audrey Poitras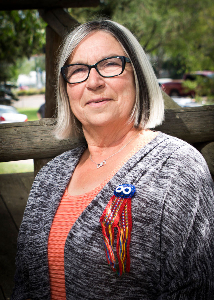 Originally from the community of Elk Point, Alberta, Ms. Poitras is the longest serving and first female President of the Métis Nation of Alberta. Throughout her more than 25 years of leadership, she has inspired many by her unwavering commitment to advancing Métis rights and improving the well-being of Métis citizens in Alberta and Canada.
As an ardent advocate of education, President Poitras successfully built partnerships with 17 post-secondary institutions across Alberta to create an endowment fund of over 30 million dollars for Métis students. She played a key role in the creation of the Rupertsland Institute Métis Centre of Excellence, the non-profit organization that administers endowment partnerships, including the one with Concordia University of Edmonton.
As an important step towards reconciliation, President Poitras continues to secure groundbreaking political agreements that solidify the Metis Nation of Alberta's right to participate and collaborate on decisions that impact the well-being of its members. She negotiated the first ever Métis Government Recognition and Self-Government Agreement with the Government of Canada and the most comprehensive Provincial Framework Agreement in the Metis Nation of Alberta's history.
President Poitras is deeply committed to building a better economic future for the Métis Nation. She has been instrumental in developing business relationships and opening doors for Indigenous people's involvement in the natural resource sector. In 2016, the Alberta Chamber of Resources recognized her efforts and named President Poitras as the Indigenous Leader of the Year.
As a passionate supporter of preserving Métis culture, history and language, President Poitras helped create Métis Crossing, a multi-million dollar interpretive site near Smoky Lake, Alberta, and the province's premiere Métis cultural centre.
President Poitras has been honoured with numerous awards and achievements including the Queen's Golden Jubilee Medal, the National Aboriginal Achievement Award for Women in Politics and she is in the Circle of Honour from the Institute For Advancement of Aboriginal Women.
Audrey Poitras is a truly remarkable leader and an exemplary role model for all. Please join Concordia University of Edmonton in congratulating her for her Honorary Degree and her many accomplishments.