Go back to news
Changes to operations of the Office of Research Services (COVID-19)
Posted on: Aug 10, 2020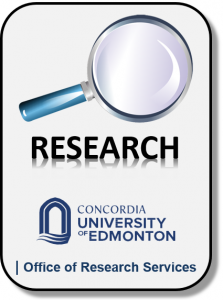 Due to the COVID-19 pandemic, the Office of Research Services has been operating as a virtual office since March 17, 2020. Virtual service has been, so far, provided by the Assistant Vice-President Research, Dr. Ramses Ilarraza. As we prepare to re-open CUE, there will be some changes to the operations of the ORS, starting on August 17th.
Virtual Office Operations (preferred)
Service hours – Monday to Friday, 08:30 to 16:30, except statutory holidays
The ORS door will remain closed at all times. Virtual services, such as teleconference meetings (Google Meet only), may be requested by email. For additional information, please email research@concordia.ab.ca, or leave a message on the phone (ext. 215).
Submission of applications for research grants
External Research Grants
General inquiries about applications to Tri-Agency and other external sponsors, specific requirements and other, may be made via email. The ORS will provide information on a case-by-case basis. Additional information and assistance is generally available from the sponsor, via their website, email and/or phone.
Submission of applications to external sponsors is open. External Grant Institutional Signature Page requirements are in effect, and currently processed electronically only, via email. Please contact the ORS for further information.
Internal Research Grants
Information on upcoming internal competitions is released via Inside CUE, and in our website. You can consult important deadlines in our website.
IMPORTANT: Due to travel restrictions arising from the COVID-19 pandemic, applications for internal funding for travel, including the Seed and SIG Exchange streams, and Student Research Grants for dissemination activities (i.e., conference travel), are suspended until further notice.
Expense claims
Expense claims are being processed electronically by Accounts Payable. Paper expense claims and submission of original paper invoices are not allowed at the moment. It is the responsibility of the claimant to ensure that all paper invoices are safely kept and produced when requested by CUE Finance.
Please consult their Inside CUE posting for information on how to submit a claim: https://concordia.ab.ca/accounts-payable-office-working-remotely/
For information on how to prepare an expense claim using research funds, consult this webpage.
Email, phone and online communications
All emails will be responded to as soon as possible. Phone calls will be received as voicemails, and reviewed as soon as possible.
Limited Face-to-Face Service
Protocols for on-campus attendance are in effect at all times.
Service hours – Mondays, Wednesdays and Fridays, 09:00 to 13:00, except statutory holidays. Virtual service applies outside these hours.
Virtual service is preferred by the ORS. Virtual visits via Google Meet are encouraged at all times.
From August to September 30th, 2020, limited Face-to-Face service by the AVPR will be available, by appointment only (no drop-in allowed).
Starting on October 1st, the AVPR will be on campus on Mondays and Wednesdays only, and the Research Officer, Lainna ElJabi, will be available on Fridays. Drop-in service will only be available on Fridays.
Pre-arranged meetings may be held in person at the ORS (AW116) only.
Guest access to the Office of Research Services (AW116)
Virtual visits via Google Meet are encouraged at all times, unless otherwise arranged with the ORS.

Mask use is mandatory when accessing the ORS, without exception.

Signs will be posted by the ORS entrance asking that guests stay at the doorway; anyone invited to enter the office must respect and maintain distancing, and follow CUE-approved protocols.
Lines or markers will be added to the floor to identify areas for standing and waiting.
In-person inquiries will be handled from a distance and behind the plexiglass barrier; chairs for guest use will be unavailable.
Meetings with the AVPR
Virtual visits via Google Meet are encouraged at all times.

Access to the AVPR office (AW238) is restricted. No meetings are to be held in this office.
In-person meetings will be by confirmed appointment only, at the ORS (AW116), or at a location designated by the AVPR.
The Research Officer will meet with the AVPR via Google Meet or, if in person, only at the ORS and following distancing rules.