Go back to news
Resuming Research Activities on Campus
Posted on: Jun 29, 2020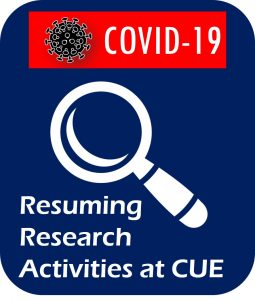 Since March 16th, 2020, on-campus research activities were put on hold. In recent weeks, under Research Sans Frontières, we released a series of resources for CUE investigators to continue their research activities while away from campus.
While we currently are not in a position to allow all research activities to resume on campus, we are glad to inform that some may be eligible to resume soon. After July 2nd, Critical Research and Time-Sensitive Research activities that require CUE's on-campus resources may be allowed, pending authorization. Regular Research on campus is still not allowed. For definitions, please read below. To obtain a copy of the guidelines, contact the Office of Research Services.
We will keep restrictions in place as per Alberta's Relaunch Strategy along with the ongoing advice and recommendations of Alberta's Chief Medical Officer of Health. These restrictions and recommendations will be respected at all times. All faculty members, staff and students must follow the Protocol for On-Campus Attendance, which can be found here.
Download the related files using the links below
Application process
To request an authorization to resume activities on campus:
Download the documents using the links provided in the section above.
Fill out the application form (Principal Investigator).
Attach a Justification to Application to Resume Research Activities during the COVID-19 Pandemic. This is a free-form document (2 pages maximum) that must include any information that may indicate that the project may be time-sensitive. This information will be used to determine if an authorization is provided, and to define whether the project is deemed Critical Research, Time-Sensitive Research or Regular Research.
Provide a signed waiver form for each individual who will participate in research activities on campus.
Submit all documents to the ORS via email.
If approved, you will receive a written authorization to resume activities on campus.
For additional information on the reopening for the Fall semester, please consult CUE's plan.
Definitions
Critical research. Activities that are highly time-sensitive and directly related to the COVID-19 pandemic. There is imminent risk of significant data loss or harm to research participants if the research does not resume as soon as possible.
Time-sensitive research. The research outcomes may be negatively affected if the research activities do not resume soon. Thesis work or graduate student projects will be delayed, affecting timely graduation and/or publication of results.
Regular research. The research project will not be severely affected if the on-campus research activities are resumed after the end of the Fall term.