Go back to news
Wednesday Update from President Loreman, Sept 23, 2020.
Posted on: Sep 23, 2020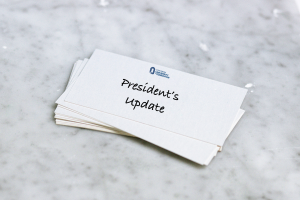 Dear CUE Community,
Last week I posted information about an exciting initiative called the National Dialogues and Action for Inclusive Higher Education and Communities, which is kicking off with a free event organized by universities across Canada, taking place online on October 1 and 2. I am pleased to announce that CUE has now been accepted and listed as an official partner organization. In addition, the registration deadline has been extended to tomorrow, September 24. I am registered, and I look forward to seeing you there if you are able to join me.
Over time this National Dialogue will focus on a variety of issues, including gender, disability, Indigeneity, mental health, and other areas. The goal of these national conversations is to move beyond talk to create and implement effective and sustainable concrete actions to address inequities within individual post-secondary institutions, and across the higher education sector. This year's inaugural dialogue will focus on anti-Black racism and Black inclusion.
Our Innovation launchpad program is gearing up for another year. Innovation Launchpad @ CUE is a program for innovative leaders that helps to advance their ideas into solutions. This program employs an objective-based mentoring process with a goal of advancing ideas into reality, and enabling students to tackle the multi-disciplinary world we live in. It prepares them to think differently, communicate effectively and, most importantly, build a network for gurus preparing them for success. Last year, this program has led to participants connecting with mentors and receiving $23,500 for their companies and ideas, including:
Pawan Sobhri (1st yr MISSM), founder of Galific arts – $1,000 in highest visitor count and $1,000 in biggest mailing list;,   
Divya Garg (1st yr MISSM), founder of Study Material Online – $1,000 in highest conversion rate and $500 in mailing list; and
Micah Crowfoot (2nd yr BA Psychology), founder of CawandCrow Curios – $500 in conversion rate. 
Jason Neitsch, a fourth-year BMgt student at CUE was selected for the Student Founder Program. As part of this program, Jason was provided a stipend of $10,000 over four months in addition to several meaningful connections and valuable mentorship. Jason and his company, Jn-Cards, was also featured in the innovation edition of Avenue Magazine, in an article entitled "Concordia Student Capitalizes on the Global Popularity of Pokémon with App"
Watch what 2019-2020 participants have to say about Innovation launchpad @ CUE here. We are launching the 2020-2021 programming on Oct 5, 2020 with a kick-off event featuring a keynote session by Ashlyn Bernier, COO of Sam Desk.  Please keep a close eye on Inside CUE for additional information and follow BMO-CIAR on twitter and Instagram to keep up-to-date.
I'll finish with a reminder. If you are coming on to campus please remember to self-screen for symptoms of COVID-19 each day before you arrive, using the AHS tool. This will help us to ensure that we are taking every step we can to avoid cases of COVID-19 on campus.
 Wishing you all another wonderful week,
Stay safe, stay healthy, and please wear your mask.
Tim Loreman, PhD.
President and Vice Chancellor.