Go back to news
Research Activities on Campus (COVID-19)
Posted on: Dec 9, 2020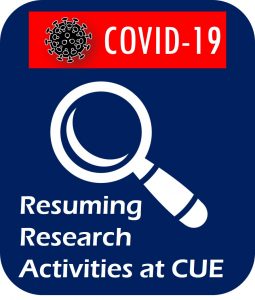 As you know, we are in the middle of the second wave of the COVID-19 pandemic, and have reached high numbers of this disease in the region.
We would like to remind you that, although some Critical and Time-Sensitive research activities may be carried out on campus, written authorization is required. The use of face masks in research spaces while on campus is mandatory. Regular Research activities on campus are still not allowed. For definitions, please see below.
Visitors on Campus are currently not allowed (please visit this webpage for updates on this subject). On-campus human research activities that include participants (e.g., in person interviews, group activities, etc.) are not allowed. Online (off-campus) activities with participants are still permitted, provided that appropriate approval for the protocol by the Research Ethics Board is in place.
For clarity purposes, this requirement does not apply to curricular research (i.e., research projects that are part of a course), as those are under the control of each Department and Faculty.
We will keep restrictions in place as per Alberta's Relaunch Strategy along with the ongoing advice and recommendations of Alberta's Chief Medical Officer of Health. These restrictions and recommendations will be respected at all times. All faculty members, staff and students must follow the Protocol for On-Campus Attendance, which can be found here. 
Download the related files using the links below
Application process
To request an authorization to resume activities on campus:
Download the documents using the links provided in the section above.
Fill out the application form (Principal Investigator).
Attach a Justification to Application to Resume Research Activities during the COVID-19 Pandemic. This is a free-form document (2 pages maximum) that must include any information that may indicate that the project may be time-sensitive. This information will be used to determine if an authorization is provided, and to define whether the project is deemed Critical Research, Time-Sensitive Research or Regular Research.
Provide a signed waiver form for each individual who will participate in research activities on campus.
Submit all documents to the ORS via email.
If approved, you will receive a written authorization to resume activities on campus.
For additional information on the reopening for the Fall semester, please consult CUE's plan.
Definitions
Critical research. Activities that are highly time-sensitive and directly related to the COVID-19 pandemic. There is imminent risk of significant data loss or harm to research participants if the research does not resume as soon as possible.
Time-sensitive research. The research outcomes may be negatively affected if the research activities do not resume soon. Thesis work or graduate student projects will be delayed, affecting timely graduation and/or publication of results.
Regular research. The research project will not be severely affected if the on-campus research activities are resumed at a later date.