Go back to news
Holiday Greetings
Posted on: Dec 9, 2020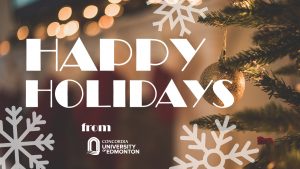 Watch this video for holiday greetings from President Tim Loreman.
You're also in for a musical treat with performances by some of our students!  You will see some in the greetings video, and there are more in the audio file attached.
Thank you to Annie Randall, Brittany Blommaert, Chloe Shantz, Linnet Gee, Shanika-Marie Adamkewicz, and Tseide Krekelberg. We would also like to acknowledge Jolaine Kerley from Music for assisting in co-ordinating these students and their musical pieces.