Go back to news
Planning for success as a Concordia Commitment student
Posted on: Sep 14, 2022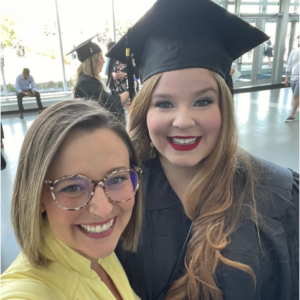 Students look for value when they're choosing which university to attend; they expect excellent classroom instruction and a chance to take part in compelling projects and lab work. However, studiousness alone will not always guarantee a job immediately after graduation. 
The Government of Alberta reported: "70 per cent of jobs are filled by people who heard about them through their networks," and it can be difficult for students to navigate the unfamiliar job market straight from university. 
One-of-a-kind program in Alberta
Preparation and connections after graduation are exactly what the Concordia Commitment program excels at. 
"The Commitment program sets itself apart as the only program of its kind in Alberta," says CUE President, Tim Loreman, who initiated the program five years ago. "Students are introduced to opportunities that will expand their minds and provide valuable skills and experiences that they can include in a resume, speak about in an interview, and use as part of their own personal growth." 
Moreover, if a Commitment student does not succeed at finding employment within six months or go on to graduate school, they are offered another year of undergrad classes free!
"I believe the CUE Commitment changed my university experience. I may have done well, but I would never have been as successful as I am today." – Chyvonne Gazdewich, a recent CUE Commitment student
Commitment program success rate: 100 per cent
Seventeen Commitment students have successfully passed through the program, which begins the first year of a university degree. Each student has either found employment in line with their degree or went on to postgraduate studies – the Commitment program supports students in navigating the option that's right for them. So far, no student has required the promise of free tuition for undergraduate classes, which is a testament to how successful the program has been. 
"The Commitment program was worth it right from the start," stresses Chyvonne Gazdewich, who recently graduated from the Bachelor of Arts four-year program. "We had a list of 10 classes we could take, they were like mini sessions. As a mature student, it had been a long time since I was a student. I had to re-learn how to study, and the study skills classes we were required to take were immensely helpful in giving me tips." 
Meeting your mentor
Typically, students will begin their Commitment program by signing up at the end of September, after they are accepted, they are connected with a Student Life and Learning staff member who will advise them throughout the program. 
"I met my advisor, Keely, for a meet and greet and pizza, and she told me what I could expect from the program and what the benefits would be. Honestly, the best part of the program for me was meeting with Keely twice a semester–so four times a year," Chyvonne says. "You could meet more than that, but I got so much out of each session that I felt the amount of meetings were sufficient."
Keely Cronin, Associate Vice-President of Student Life and Learning, has been a Concordia Commitment Advisor since the program's inception in 2017. Students will make connections with either CUE faculty or staff members, who will guide them on their journey through the Commitment program. 
Chyvonne mentioned that her advisor would ask questions that made her more introspective, such as: "What classes do I like, what am I struggling with – and she would give me helpful strategies and point me in the right direction. She might suggest that I do extra tutoring, guide me to helpful websites and put me in touch with people and resources that would help." 
Academic skills for university success
The academic skills workshops are open to anybody, but many are a requirement for Commitment students, Keely explains: "The workshops cover time management, study skills, test-taking strategies, writing support and other topics in their first year – then we move on to working on career development and helping students articulate their goals." 
"Keely gave me a different perspective as to why I might be struggling with a class," Chyvonne points out. "She would tell it like it is and I could always count on her for constructive criticism. She was dependable without being judgemental."
Be inspired by word-class speakers
In addition to skills classes, students are also invited to attend the yearly Concordia Commitment Lecture, where compelling speakers share wisdom and experiences to help students succeed at university and beyond. There is no shortage of topics and themes delivered by international experts and distinguished research clusters. "The lectures were very inspiring, and covered topics I would never have picked on my own," says Chyvonne.
Build experience through volunteering
Getting involved in campus life is another action required of students. The Commitment students invest in their personal and professional growth by joining a club, becoming a Student Ambassador, volunteering or other campus opportunities. 
"We had to put in a minimum of 10 volunteer hours. I volunteered as Student for a Day, and Peer Coaching – a program that assisted new students through some of their challenges in their first year and boosted their mental health, by helping them feel a sense of community." 
The benefit of volunteer time, like peer coaching for Commitment students, is "gaining leadership skills and a chance to enhance their resume, and also the satisfaction that they are helping and empowering other students in their personal pursuits" says Keely. 
"For many first-year students it's difficult to start university. We want to help them feel at home and part of the community. Our older students can form friendships with new students and help them through the challenges that they themselves overcame." Keely Cronin – VP, Student Life and Learning
Plan your career journey
In year three or four of the Commitment program career development begins. Advisors help students in their self-discovery journey through thoughtful career planning and guidance. Some activities include development seminars, career fairs, industry panels and networking events.  "Networking with people in the education profession taught me what I could do with my undergrad. My goal is now to become an elementary school teacher, " says Chyvonne, who is currently pursuing her Bachelor of Education After Degree.
Chyvonne also took advantage of career development skills training, which can be useful for students planning to enter the workforce as well as those hoping to continue their education. She says, "we were taught cover letter writing and how to prepare for interviews by standing up in front of a cohort and speaking confidently – it was very helpful in giving us the confidence to speak about what we know."  
Make the most of CUE's student resources
Although Chyvonne urges students to benefit from the Commitment program, she points out that all students can benefit from resources available at CUE. "I would recommend that even if you don't qualify for the Commitment program, try to immerse yourself in clubs, events, skill-building classes, talks and as many volunteering activities as you can. 
"Learn as much as you can about what's available at university so you can be the best version of yourself!" says Chyvonne. 
If you are interested in signing up for the Commitment program, the last day to register is September 30, 2022 at 4 p.m.
Learn more about the Concordia Commitment.