Go back to news
Our Green Energy Future
Posted on: Sep 8, 2021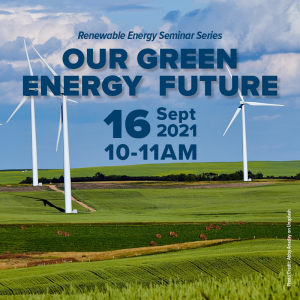 Part of the Renewable Energy Seminar Series, with experts ranging from industry, academia, and government.
Join us on Thursday, September 16, 10:00 am – 11:00 am
Take a peek into our future with David Dodge, the producer of 280 Green Energy Futures documentaries on energy transition and the clean energy revolution in Canada.
The pace of change, level of innovation and investment in the clean energy sector is stunning and will change the way we live, get around and work. Solar and wind are now the cheapest new sources of electricity money can buy and this will and is having a profound effect on the future of energy, the buildings we live in and on the way we get around.
Largely unreported in the news, there is a renewable energy boom going on in Canada, mostly in Alberta and Ontario, but projects are coming on stream that are among the largest in the world. Energy transition and climate change policies in cities and states are driving change at an unprecedented rate affecting urban design, transportation and our energy systems. Energy transition has now become the single biggest factor in determining the future of jobs and a functioning economy.
Contrary to what some say, energy transition is not an either-or scenario. As Mark Carney, former governor of the Bank of Canada said, energy transition "is creating the greatest commercial opportunity of our age." Our future prosperity depends on us honouring our past and following indisputable economic trends to an economically diversified future with jobs and opportunity for those who follow the trends.
Register to attend
Meet David Dodge
Producer, Green Energy Futures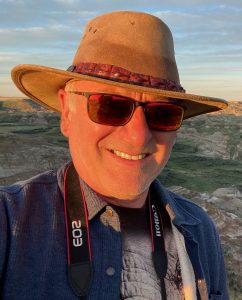 David Dodge is the producer of Green Energy Futures, a series of more than 280 documentaries on inspiring clean energy leaders, projects and technologies from across Canada. You can see his stories at GreenEnergyFutures.ca and listen to his features weekly on CKUA Radio across Alberta.
David was the founding co-chair of Edmonton's Energy Transition Advisory Committee and the founding chair of the board of Energy Efficiency Alberta. He has worked as the production manager of a Canadian Nature Publisher and for non-profits such as the Pembina Institute and the Canadian Parks and Wilderness Society.
David also produced 330 episodes of the award winning EcoFile Radio series on sustainability for CKUA Radio. He has worked as a publisher, journalist and photojournalist, and is a past president of the Edmonton Federation of 162 Community Leagues (EFCL) and Evansdale Community League. Currently, David volunteers as the Director of Sustainability at Evansdale where he carried out an energy efficiency retrofit and two solar projects that now produce 95% of the electricity for Evansdale on a net-annual basis.
About the Speaker Series
McNeil Centre for Applied Renewable Energy (McNeil C.A.R.E) and the Concordia Alumni Association are proud to present the Renewable Energy Speaker Series. This speaker series aims to provide CUE members (students, alumni, staff and faculty) and the community in general with the opportunity to explore renewable energy solutions, learn about the challenges faced by the sustainable energy sector (industry, government and society), careers in the renewable energy sector and interact with experts from across Canada and beyond.
Contact
Please email Dr. Isha Katyal, Director, Innovation and Industry with any questions.
Release Consent
Please note that the session will be recorded and posted on the BMO-CIAR website. By signing up for the event, you hereby consent and authorize the Concordia University of Edmonton to use your testimonials/comments and any photographs, video, or audio recordings taken of you for internal and external newsletters; news releases; journalist requests; and Concordia University of Edmonton promotional materials, including the World Wide Web, printed documents, audiotapes, videotapes, CD-ROMs, posters and in any and all other media, whether now known or hereafter existing, controlled by the Concordia University of Edmonton. You will make no monetary or other claims against the Concordia University of Edmonton for the use of the above-mentioned media.