Go back to news
Now accepting applications for the 2021 Concordia Connects Grant
Posted on: Sep 8, 2021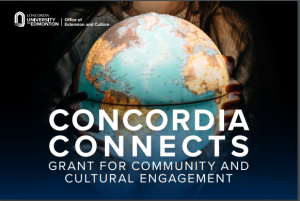 The Office of Extension and Culture is pleased to call for our 3rd year, applications for the Concordia Connects Grant for Community and Cultural Engagement. 
Two grants are available per year: $3000 for Community Engagement and $2000 for Cultural Engagement initiatives.
The deadline for 2021 applications is November 15th , 2021, the first Monday after Reading Week during the Fall Semester.
For further information, please visit: https://concordia.ab.ca/external-affairs/office-of-extension-and-culture/funding-opportunities/ or email us at extension@concordia.ab.ca
The Office of Extension and Culture would like to thank the Concordia Students' Association for their support in this grant opportunity.