Go back to news
COVID-19 Update: What to expect with the March 1 return to campus
Posted on: Feb 24, 2022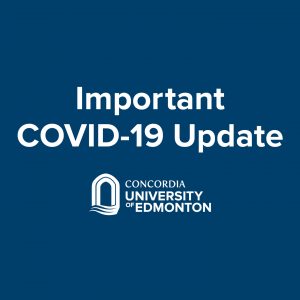 Dear CUE Community,
We are looking forward to seeing the community back on campus starting March 1. I wanted to share more on how we are preparing to welcome students, faculty, and staff back to campus for a safe and successful remainder of the term. 
Health and safety measures
In my last message, I communicated how CUE was responding to the province's plans to gradually ease COVID-19 restrictions and the expectations for post-secondary institutions from the Minister of Advanced Education. 

Masks will remain mandatory in all indoor public spaces on campus, including in classrooms, except for instructors while they are teaching. This requirement will remain while the municipal masking bylaw is in effect. 
We have recently made the decision to suspend CUE's mandatory vaccine requirement, effective immediately, in alignment with provincial guidelines. The requirement we had in place until now helps to support a safe return next week as students, faculty, and staff returning next week are fully vaccinated. Thank you for getting your vaccines and for helping to keep the community safe.
When you return to campus next week, please pay attention to the following protocols:.
We ask that you do not come to campus if you are not feeling well and make sure to follow

AHS isolation requirements

. Students, faculty, and staff will be supported through any absences for this reason.

Physical distancing is no longer required on campus, but will be encouraged wherever possible.

Hand sanitizer will continue to be made available across campus and CUE will maintain its enhanced cleaning schedule for high-touch surfaces and in high volume areas. Additional cleaning supplies will be available in food and office areas, and at the library service desk.

You will no longer need to scan your ID at the main doors and entrances across campus will be open.
CUE will continue to follow the province's public health guidance while monitoring the pandemic and the needs of the CUE community. We are prepared to adjust our response as necessary to protect your health and safety on campus.
Campus services and student supports
On-campus services such as Food Services, the Library, and the Bookstore will resume regular operations next week. 
Student Life and Learning will be hosting campus tours and a booth next week to answer questions, help students find classes, and refer students to campus resources. Stop by the booth in Tegler Centre on March 1 and 2, from 8 a.m. to 2 p.m., to speak with a Peer Coach or CUE staff member.
Students are encouraged to access the many services and supports CUE offers:
Contact Student Life by email or by stopping by the Student Life Centre across from the Bookstore to access any of these services.
We look forward to welcoming everyone to campus events throughout the month of March. Watch for news on upcoming events including Pride Week from March 7-11 and Missing and Murdered Indigenous Women awareness week March 21-25. 
The Concordia Students' Union (CSA) will be hosting several upcoming events, including a free pancake breakfast on March 1 in Tegler Centre, 10 a.m. to 1 p.m.
For more information on returning to campus, please see answers to some of the FAQs.
Returning to work on campus
Now that the province's work from order has been lifted, staff are encouraged to discuss work arrangements after March 1 with their supervisors. CUE supports flexibility and a healthy work life balance, and remote or hybrid work arrangements will be considered wherever possible. Please refer to CUE's Remote Work Policy.
If employees have any concerns about returning to campus, please have a discussion with your supervisor or Human Resources. All CUE employees are encouraged to access the resources available through CUE's Employee and Family Assistance Program, LifeWorks.
Supporting each other
Please support each other as we return next week, recognizing that everyone will have different feelings about being back on campus. And, please take care of yourselves. If you need support, take advantage of the many CUE resources available to you. 
Thank you for your patience and flexibility as we continue to navigate the pandemic. I look forward to seeing you in person, and to returning to the vibrant CUE campus community we are so fond of. 
Sincerely,
Tim Loreman, PhD.
President and Vice-Chancellor