Go back to news
COVID-19 CUE Library Service Updates
Posted on: Mar 23, 2020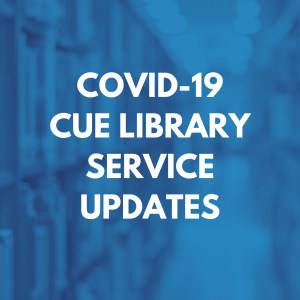 Please check the library website for the most up-to-date information regarding library services.
Thank for your patience and understanding in these unusual circumstances.
Restricted Building Access In Effect
To reduce the spread of COVID-19, CUE Library has heavily restricted building access and reduced hours.
CUE students, faculty, or staff who have urgent information or computing needs that cannot be met online or over the phone should contact the library between Monday – Friday from 8:00 am – 4:30 pm to make an appointment for building access.
Drop-in access to the library is no longer available.
The doors to the library will be locked at all times until further notice. You will not be let into the library without making prior arrangements first.
CUE ID is required for entry.
Studying in the library is no longer available.
Information regarding library services may change as conditions change or we receive new directions from CUE's Crisis Management Team. Please check CUE's COVID-19 Information for the CUE Community webpage for up-to-date information.