Go back to news
Wu Style Tai Chi Class starts in Winter 2018 on campus
Posted on: Dec 14, 2017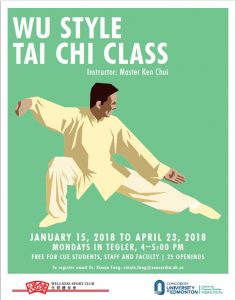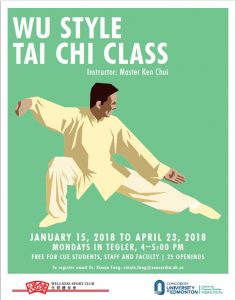 CCS is excited to announce that we are going to offer English Taught Wu Style Tai Chi Class in 2018 Winter semester on campus.
Course Description
Through Wu Style Tai Chi class, learners will gain a fundamental understanding of Tai Chi and be able to perform the entire routine of 30-form Wu Style Tai Chi independently.
Course Outcome
The Wu Style Tai Chi, founded by Master Wu Jianquan (吴鉴泉宗师), is the second most popular form of Tai Chi in the world today. The Simplified 30-form Wu Style Tai Chi, with its elegant, graceful, and circular movements, allows learners to relax while building harmony, coordination and balance in the body.
Invitees: ALL CUE students, faculty, staff, and public learners.
Registration: Directly with Dr. Xinxin Fang (Xinxin.fang@concordia.ab.ca)
Course Fee
(1) This course is free for CUE students, staff and faculty.
(2) For public learners from outside of CUE, please click here for course tuition payment:
https://www.eventbrite.ca/e/english-taught-tai-chi-class-for-public-tickets-41124174513
Course Hours:
15 hours (1 hour/week, for 15 weeks, starting 15 January, 2018 until 23 April, 2018)
Course Schedule:
Every Monday 4:00 pm – 5:00 pm
There are no class on February 19 (Family Day) and April 2 (Easter Holiday) . Alternatively, the class on Stat holidays will be offered on February 21 and April 4.
Credit value: Non-credit
Instructor:
Master Ken Chui (Wai Keung Chui), a certified instructor for Tai Chi and Qigong, who has over 10 years' experience teaching in Hong Kong and Canada.
Classroom: Tegler Student Centre, CUE
Open Seats: 25
Required Resources:
• flat shoes – No runners because they are not flat. Cross training shoes are acceptable because they are flat.
• comfortable pants — No jeans. Elastic pants or shorts are acceptable.
• comfortable coats – Elastic coats or shorts are acceptable