Go back to news
Concordia Symphony Orchestra presents orchestral poetry
Posted on: Dec 15, 2017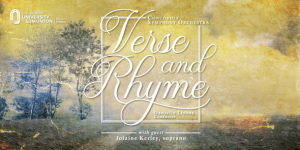 Concordia Symphony Orchestra's VERSE AND RHYME
Orchestral poetry: Dickinson and Agee in music
Danielle Lisboa, conductor
Jolaine Kerley, soprano
This Sunday, Dec. 17, at 3:00 pm
2:30 pm Tim McNamara on Dickinson's poetry
Tegler Student Centre
Get your free ticket at Student Accounts!
The newly re-formed Concordia Symphony Orchestra presents a program merging the art forms of music and poetry. CSO's second concert of the 2017–18 season features the works Eight Poems of Emily Dickinson and Knoxville: Summer of 1915, based on James Agee's poem, by American composers Aaron Copland and Samuel Barber, respectively. The scoring is poignant and revealing, as is the poetry that inspired these compositions, given voice by soprano soloist Jolaine Kerley, Concordia's primary vocal instructor.
Also in the program is one of the most beloved pieces of the symphonic repertoire: Mahler's Adagietto from Symphony No. 5, a heart-rending love poem to his future wife, Alma Schindler. To end the afternoon, the orchestra will fire up Spanish flair in the ballet music for Three-Cornered Hat, Suite No. 1 by Manuel de Falla.
The concert will last one hour.
Prof. Tim McNamara leads a pre-concert chat on the poetry of Emily Dickinson starting at 2:30 p.m.