Go back to news
Reminder! Insight Development Grant Workshop December 14
Posted on: Dec 13, 2017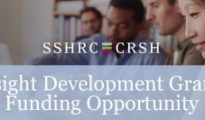 Do you intend to apply to the SSHRC Insight Development Grants competition for the February 2, 2018 deadline? The Office of Research Services invites you to attend an information session to help prepare and assist potential applicants with the SSHRC IDG application. 
Thursday, December 14: How to Apply for the Insight Development Grant | 11:30 am – 1:00 pm | Room HA206 
This session will provide potential applicants with an overview of the Insight Development Grants funding opportunity. Research Officer Lainna ElJabi will take participants through the application process, explain how applications are adjudicated, and provide tips on preparing a strong application.