Go back to news
Wild Finish in Ft. Mac Helps Men's Basketball to Two Big Wins
Posted on: Jan 27, 2014
Friday night in Ft. McMurray, the Thunder Men's Basketball team found a way to overcome their worst first half of the season and claw back to even with the Keyano College Huskies. With 22 seconds to play the incredible would unfold:
http://www.youtube.com/watch?v=RgDoJDNOQfc
The Thunder would force a tough three point attempt from the Huskies. Dallas Wright would tip the rebound to Dave Shantz who would push up the court where he lost control only to see the ball bounce toward Ben Grimsrud, who also tripped but sent the ball on its way to Rob Haack. Rob – in turn – put up a deep 3 which rimmed out but Jamaal Bucknor – crashing the lane hard – caught the rebound and floated the ball back towards the hoop, where – as the buzzer sounded – it fell in for the game winning basket thus completing the 12 point comeback and a miraculous 61-59 win.
The Thunder were led by David Shantz with 18 points and 12 rebounds. Not far behind was Jamaal Bucknor with 16 points (11 in the 4th) and 12 rebounds. Dallas Wright added 11 with Rob Haack chipping in 9 and Ben Grimsrud rounding out all the scoring with 7. "This was a night where our experience really paid off," remarked Coach Wood. "We struggled mightily in the first half but having over 20 seasons of experience out on the floor down the stretch helped us climb all the way back. Keyano is such a tough place to play and the boys dug deep to pull this one out."
Saturday would see the Thunder lead wire to wire, pulling out an 87-75 win. Leading the way for the Thunder was Dallas Wright with a solid 23 and 8 performance. Jamaal Bucknor registered his league leading 11th double-double with 16 points and 10 rebounds. Dave Shantz was great again with 16 points and 9 rebounds. Rob Haack added 11 with Liban Abdi-Aziz providing a lift off the bench with 9.
This week the Thunder take on nationally ranked NAIT in a battle for first place in the North. The Thunder currently sit at 10-5, 4th place in the ACAC with the Ooks coming in at 11-4, 2nd overall in the ACAC. The home game goes Friday, January 31st at 8 PM. Remember to come and cheer on the Thunder at the Basketball Pep Rally at Noon on Friday in Tegler.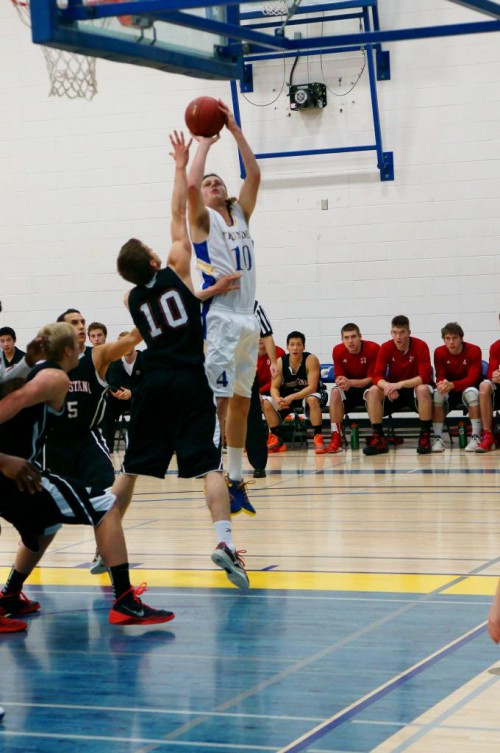 Photo Courtesy of John McIntosh