Go back to news
Alberta post-secondary institutions launch campaign to promote confidence in vaccination against COVID-19
Posted on: Aug 23, 2021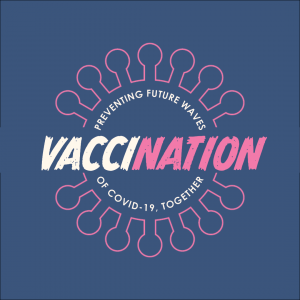 EDMONTON, Alberta — Concordia University of Edmonton (CUE), NorQuest College, MacEwan University, and University of Lethbridge are proud to announce a collaborative campaign and challenge to promote confidence in COVID-19 vaccines, and encourage post-secondary students to receive the vaccine prior to the upcoming academic year.
The VacciNATION campaign targets youth from diverse communities across the province, and takes a peer-to-peer approach to sharing information, dispelling myths, and promoting immunization. In addition to encouraging inoculation, the campaign challenges students to become ambassadors and create materials that they believe will resonate with their peers. The materials will be shared on social media and a panel of judges will assess the materials and award cash prizes to students. 
"We encourage young people to get vaccinated to prevent future waves of COVID-19," said Dr. Cecilia Bukutu, Director of the Department of Public Health at CUE and project lead. "This fall, students are returning to campuses across the province, and they are also returning to jobs where they work and come in direct contact with members of the public, including high-risk groups."
A survey of post-secondary students across the province conducted by Dr. Bukutu found that despite 72% of employed students working directly with the public, 23% of students are unsure or won't get the COVID-19 vaccine and 34% are unsure or believe the vaccine to be unsafe. Additionally, 24% do not perceive COVID-19 as a significant threat or risk, given their age and lack of underlying health conditions. 
"To date, the focus of the conversation has been on protecting vulnerable populations, which is accurate and extremely important; however, new variants of concern have emerged that are affecting younger populations and leading to severe illness, hospitalizations, and long-lasting health conditions," said Dr. Bukutu.  
By taking a peer-to-peer approach and focusing on social media to amplify messaging, the VacciNATION campaign hopes to mobilize students to get informed and get vaccinated prior to the beginning of the upcoming academic year. 
How to enter the VacciNATION Challenge:
Students who are interested in entering the VacciNATION Challenge and creating their own materials for a chance to win one of five cash prizes can register now and must submit their materials before September 30, 2021, at midnight. All post-secondary students across Alberta are eligible to enter.
VacciNATION is funded by the Public Health Agency of Canada's Vaccine Community Innovation Challenge. For more information, please visit https://concordia.ab.ca/vaccination. 
Links: