Go back to news
Thunder MVB Can't Quite Crack the Code of the NAIT Ooks
Posted on: Jan 16, 2017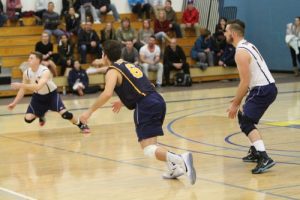 The Thunder Men's Volleyball team had a tough weekend dealing with a good NAIT team and an odd schedule coming off a long Christmas break. The first match at NAIT fell on a Thursday which threw the schedule off, but the guys came out firing winning the first set. Unfortunately, the guys lost their 'mojo' in the next three sets and ended up losing in 4 sets (23-25 25-20 25-18 25-19). Keenan Forstey was named the Player of the Game Thursday.
The home match up took place Saturday night at Concordia where the guys definitely played good enough to win. Unfortunately, too many errors in each of the three sets saw the guys go down in three straight but with a minimum deficit of points (25-21, 26-24, 25-23).  "Our team took some good steps forward this weekend as we get ready for another oddly scheduled weekend against Grande Prairie where we play at Concordia on Saturday and Sunday," stated Head Coach Lucas Jacobson.
Indeed, in a rare quirk of the schedule, the Thunder will see action on Saturday night and will finish off the home double-header on Sunday afternoon.  Both matches will commence 25 minutes after the conclusion of the women's games.