Go back to news
Thunder Women's Volleyball Swept by Ooks
Posted on: Jan 16, 2017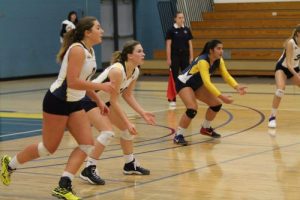 The Ladies Volleyball team opened up their second half of league play on Thursday, January 12th as they played the NAIT Ooks in a home and home series and came away with two disappointing losses. On Thursday at NAIT, the team battled hard during some stages of each set but were unable to sustain any consistent energy and lost with scores of 25-17, 25-22, and 25-16. Shandelle Meyer was the Player of the Game for the Thunder.
In Saturday's return engagement at Concordia, the ladies showed some great determination at the start of each set and played side out ball with the Ooks. Unfortunately they were unable to maintain that fight and lost pretty handily, 25-16, 25-19 and 25-14. Julia Heupel was the Player of the Game for the Thunder.
Coach Turner had this to say about the week's matches: "Overall (it was) a pretty disappointing weekend as we struggled with our first contact in key times of each set and we gave away easy points because of that and NAIT capitalized. We played some fun and entertaining volleyball for one-third of each set but at any level and especially our level, playing with that energy for only one-third of a set will not get you a victory. We need to do a better job in practice with our mental part of the game and focus on doing the skills the right way all the time."
This coming weekend, the Thunder will play host to the Grande Prairie Wolves in a home double-header. Match one will commence at 6 PM on Saturday night and in a schedule rarity, match two will go at 1 PM on Sunday, January 22nd.