Go back to news
Thunder Men's Basketball Split with #5 NAIT, Cling to Playoff Hope
Posted on: Feb 8, 2016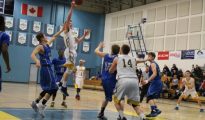 With every game critical to the playoff picture, the Thunder MBB squad was in tough against the #5 nationally ranked NAIT Ooks this past weekend. Friday night's tilt at NAIT started slow for the Thunder but they were able to battle back to a 29-28 score at half time. Another slow start to the third quarter had the Thunder go down ten but a resilient group found a way to go on a 30-10 run and take down the Ooks by a final score of 79-69. "This was our most complete effort of the year," said Coach Reagan Wood. "It's been 6 years since we've won at NAIT which is probably the toughest home court to get a win on so being able to get one there was huge. I liked our toughness and the way we executed over the course of 40 minutes tonight." Leaders for the Thunder: Brett Jakubec with a career high 25 points, Adam Johnson notched another double-double with 15 points and 10 rebounds, Jason Jones Jr. added 14 with Artez Scharer scoring 12 to go along with 5 assists.
Game two at the RKAC would start well for the Thunder breaking out to an 11-0 lead and up 23-15 after the first. The Ooks would storm back and be up 44-38 at the half. Struggling to get stops in the 3rd, the Thunder would be down 10 heading into the 4th quarter. The Thunder again dug deep and were able to close the gap to 82-80 with 10 seconds to go but the Ooks finished a tough layup and drew a foul which put the visitors up 85-80 which would be the final score in this one. "Seems like the magic number is 80 this year," remarked Coach Wood. "When we hold teams under 80 we win, when we don't we lose. We didn't use our good start well enough and when the Ooks adjusted defensively we took too long getting going against their zone. We weren't good in transition and allowed too many easy attempts at the rim. We are going to need a huge effort in our next 4 games and a bit of help to get into the playoffs." Leaders for the Thunder on Saturday night were Artez Scharer with 17 points, Mike Malin with 16 points and 7 rebounds, Ben Grimsrud with 15 points and 8 rebounds with Brett Jakubec adding a nice line of 14 points, 4 rebounds and 5 assists.
The Thunder have two home games this week against another tough, nationally ranked opponent in the Keyano Huskies. Game one goes Friday night at 8pm with the rematch at 3pm on Saturday.