Go back to news
Thunder Men's Basketball Finish South Schedule with a Split
Posted on: Jan 20, 2014
The Thunder wrapped up their 2013-14 interdivision schedule this weekend with big games against the #1 ranked Red Deer Kings and the Olds Broncos. Friday night in Red Deer the Thunder would put up a valiant fight but a strong first quarter from the Kings would prove to be too much to overcome falling by a final of 98-73. Jamaal Bucknor led the Thunder with 16 points with Rob Haack and David Shantz tallying 14 and 12 respectively. "We lost this game in 5 minutes," said Coach Wood. "A team as good as Red Deer punishes you for any mistake you make and for 5 minutes we made a lot of them and a 4 point game became a 25 point game. Having said that I feel that our guys kept their heads in it and battled to the end."
Sunday afternoon the Olds Broncos paid a visit to the RKAC for the final North-South game of the regular season and a big 2 points on the line. The Thunder was able to lead wire to wire withstanding several runs from the Broncos holding on to a 74-63 win. The Thunder got a great effort from 5th year team Captain Dallas Wright who provided the early spark and finished the game with a team high 20 points accompanied by 4 rebounds and 5 steals. Rob Haack made 3 consecutive three point shots midway through the 3rd that really sealed the victory and finished with 14 points. David Shantz rounded out the double digit scorers with 10. Jamaal Bucknor had 8 to go along with 14 rebounds. Ben Grimsrud also had a nice stat line with 9 points, 7 rebounds and 6 assists. "We really needed this win today," stated Coach Wood. "Last season we were 4-3 against the South and this season we were able to improve that to 5-2. Anytime you can find an extra win it goes a long way to deciding how your season will finish out. We are battling to get a playoff spot and we need every win we can earn." The Thunder currently sit in a 3-way tie for third in the ACAC.
This coming weekend the Thunder will travel north for two games to face a tough Keyano Huskies squad in Ft. McMurray. Game times are Friday at 8 PM and Saturday at 3.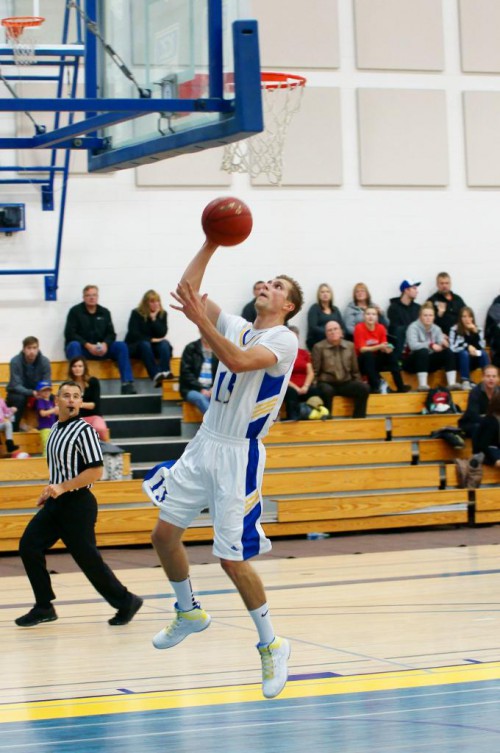 Photo Courtesy of John McIntosh