Go back to news
Thunder Hockey Wrap Up Preseason
Posted on: Sep 19, 2016
This weekend was busy for the 2016-17 edition of the Concordia Thunder Hockey team as they closed out the preseason. Following an organized scrimmage against NAIT put on by the Edmonton Oilers at the new Rogers Place on Thursday night, the Thunder headed to Lac La Biche for a game against the Portage Voyageurs on Friday. The Thunder took an early 1 to 0 lead but despite multiple chances could not beat the Portage goaltender and ended up falling 3 to 1.
Saturday night the Thunder returned home to face the Voyageurs once again. The Thunder played an excellent game and finished with a 7 to 3 win. Phil Dillon led the way with 4 points (2 G, 2 A) and rookie line mate Ian McLellan also chipped in adding 3 points. Tanner McCorriston was excellent between the pipes picking up the win.
Sunday night the Thunder travelled to Camrose to face an excellent Augustana Vikings squad. Playing what was essentially their 4th night in a row, the Thunder couldn't sustain a consistent level of play and eventually succumbed 7 to 1 to the Vikings.
Head Coach Dan Glegloff is looking forward to the start of the regular season and had these comments: "Next weekend the games start to count and this young Concordia team is eager to begin. We hope to see lots of Thunder fans on Friday night when SAIT comes to town for the home opener."  That game will go at 8:15 PM at Clareview Arena.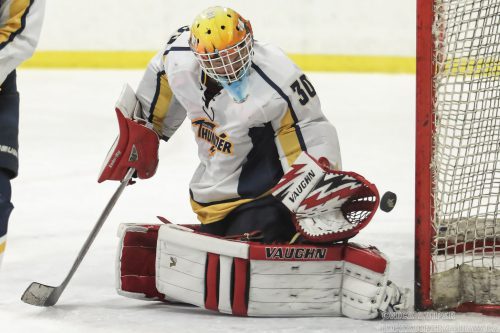 Photo Courtesy of Nick Kuipe