Go back to news
GPRC Delivers a Massive Blow to Women's Soccer's Pursuit of League Title
Posted on: Sep 19, 2016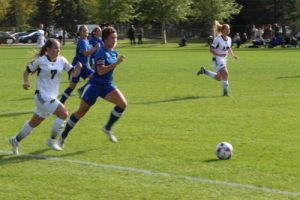 In an unprecedented outcome, the Concordia Thunder Women's Soccer team lost both matches this past weekend against Grande Prairie, delivering a massive blow to Concordia's aspirations of a league title.  The first match Saturday afternoon in Wolves' country finished in a 3-1 defeat.  As is always the norm for the Thunder women, during the same day travel to Grande Prairie, the women stepped off the bus to play their first match lacking the mental and physical focus needed, and fell to 2-0 at half.  The Thunder awoke in the second and controlled the run of play and were rewarded in the 62nd minute by a Jaida Stasiuk goal.  Playing desperately for the tying goal, Concordia were caught on a counter attack and conceded the third and final goal of the match.
Sunday's rematch promised to be a different result and different it was.  The Thunder controlled the majority of play throughout the match but were victims of a 'wolf spell' that seemed to repel soccer balls from the Grande Prairie net.  The Thunder created numerous opportunities toward the goal but were stopped by cross bars, goal posts, goalies' hips, players' torsos and numerous other unfortunate wolf obstacles.  On Grande Prairie's first chance, Concordia found itself down 1-0.  On GP's second chance, Concordia found itself down 2-0 and so this theme continued until GP went up by 4-0.  At the 71st minute Stasiuk scored the Thunder's first goal and started to alter Concordia's fortunes.  The Thunder scored two more goals, Stasiuk's second of the game and Jill Sander's first, but unfortunately time elapsed for Concordia and the result was a 4-3 final score.
The Thunder will have a chance to redeem themselves when they travel to Augustana on Saturday, September 23rd to face the Vikings before returning home to host the Keyano Huskies on Sunday.  Game time is at Noon.