Go back to news
Thunder Hockey in Tough Against NAIT
Posted on: Nov 7, 2016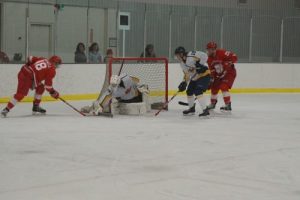 This past weekend the Thunder Hockey team took on the top rated NAIT Ooks in a pair of games. Friday night at NAIT Arena, the Thunder battled hard and played well for the majority of the evening. Unfortunately for the Thunder, the Ooks were able to gain the advantage on a few turnovers and capitalized enough to earn a 4 to 1 win. Colin Minardi scored for the Thunder in the loss and Tanner McCorriston was excellent again between the pipes.
Saturday night at home the Thunder once again fell victim to a few early turnovers and were quickly down 2-0 early in the first period. A goal by Rory Davidson got the Thunder back into the game but a strong second period by the Ooks had them up 6 to 1 after 2. The Thunder got a goal from Brady Bakke in the third but eventually fell by a final of 8 to 2.
"The Thunder head into the bye week with some tough lessons learned against a power house team from NAIT," commented Head Coach Dan Glegloff. "Despite the losses, we remain only 2 points out of a playoff spot and will continue to push to become better every day this week at practice."
The Thunder return to the ice in two weeks when they face the RDC Kings.