Go back to news
Thunder Women's Basketball Get Another Pair of W's
Posted on: Nov 7, 2016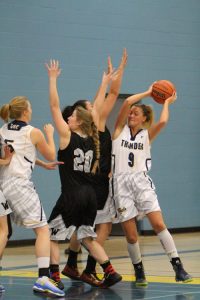 Returning back home to the "Thunder Dome", the Women's Basketball team were looking to continue their excellent early season play. In town for a pair of weekend games were the GPRC Wolves. Right from the opening tip-off, the Thunder were all over the Wolves' defense, taking a 17-7 lead after the first quarter. "One of the things we need to continue to work on is our defensive pressure and rebounding on the defensive end," stated Coach Valpreda. Not only did the Thunder look to rebound the ball on the defensive end, but wanted to attack the glass on offense and they did just that, going to the Wolves with 25 offensive rebounds. The Thunder looked to be firing on all cylinders as a majority of the Thunder players were able to contribute in the points column and took the game, 70-34. "Overall we were ok. I believe we could have been a bit sharper in some of the things we did. We turned the ball over 24 times and we didn't capitalize at the free throw line." Congratulations to Morgan Dool who was the POG with 17pts, 6 stls, 5 rebs and 3 assts.
Going into Game 2 on Saturday afternoon, the Thunder looked focused and ready to go, getting out to an early 10-0 run to start the game. "As the season progresses, we need to look to play for a full 40 minutes. For today's game we wanted to limit our turnovers and capitalize on our field goal attempts." The Thunder also looked very good in their defense as they rotated and moved with the ball, smothering the Wolves as soon as they had possession. Going into halftime, the Thunder were again dominant on the defensive end only allowing the Wolves to score 4pts in the 2nd quarter and taking a 47-15 halftime lead. In the second half, again it was the Thunder who set the tone and scored 25 pts in the 3rd quarter. "One of the big improvements for us was we got 32 points from the bench and these contributions will help us down the stretch," stated Valpreda. The Thunder finished off with a 82-36 win on the afternoon and the POG went to Ann Stewart with 18pts and 9 rebs. The Thunder have four games left in the first semester and must continue to be focused and play smart. "We have been playing well in the last 4 games, but we still have a lot of work to do and have some very good upcoming opponents."
The first of those will be the King's Eagles, who will be visiting the RKAC on Remembrance Day evening, with the tip off going at 6 PM.