Go back to news
Wolves Tame Thunder Women's Volleyball
Posted on: Nov 7, 2016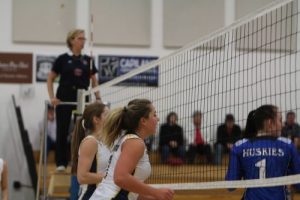 The Women's Volleyball team travelled to Grande Prairie over the weekend to face the always tough Grande Prairie Wolves. The Wolves have been a model of consistency over the past 25 years and it showed on the court over the weekend. In both matches the Thunder struggled with the first contact and had no rhythm in any aspects of the game, going down to defeat in straight sets both nights. Ryley Rizzoli was the Thunder Player of the Match both nights.
Coach Turner's comments from the weekend- "Overall it was a very disappointing weekend. I know we are facing a very good team that doesn't make too many mistakes but I felt it was a great opportunity for the ladies to show how we would respond against a team like that. In the end our response was not what I expected and we need to come back this week and start challenging each other to get to the same level that the Wolves are at. I know we have the talent to get to that level but what we do on the court right now will not get us there. The overall picture is to fight and battle for every point and control what we can and that will be the focus moving forward."
The Thunder will face the always competitive Augustana Vikings this weekend with the home match going Saturday night at 6 PM at the Ralph King Athletic Centre.