Go back to news
TestnTravel Ltd. Moves into BMO-CIAR Lab
Posted on: Oct 13, 2021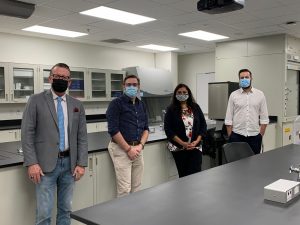 Concordia University of Edmonton is pleased to announce that TestnTravel Ltd. will be working in the BMO-CIAR lab to provide affordable diagnosis of pathogens, including COVID-19. 
"It is an exciting time for CUE as we continue to strengthen our connections with industry and support local innovators in developing world-class products and services. Our labs and business support services are open and we will support Alberta's re-launch in any way we can."

Dr. Manfred Zeuch, VP External and International Relations

"We are excited to partner with CUE and the BMO-CIAR laboratory to move TestnTravel into the next phase of testing.  With this partnership we will be able to offer infectious disease testing directly to businesses and consumers across Alberta.  This project will create jobs and stimulate local economic growth, and in our own way, help kick-start the Alberta economy."

Dr. Mathew Diggle, CEO and Co-founder of TestnTravel
About TestnTravel Ltd.
TestnTravel is an industry leading infectious disease testing laboratory.  They offer affordable custom testing solutions for businesses and consumers, and specialize in event and travel testing for COVID-19 and other related pathogens.  Their mission is to offer a seamless testing process for consumers from sample collection to receipt of their result.  TestnTravel Canada uses only Health Canada approved assays to offer the highest caliber testing, and transmits test results through our own secure mobile app for immediate results delivery. 
More information about TestnTravel can be found here.  
About BMO-CIAR 
BMO-CIAR provides a woven approach for connecting multi-departmental applied research activities, to external stakeholders, technology commercialization and assisting early-stage companies in succeeding. The BMO-CIAR can be found in the state-of-the-art Allan Wachowich Centre for Science, Research, and Innovation.
More information on our facility rentals can be found here.