Go back to news
Borrow a LED Light Therapy Happy Light
Posted on: Oct 14, 2021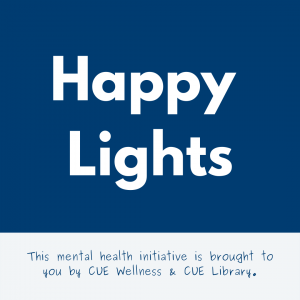 CUE Wellness and the library have partnered together to provide more resources for campus mental health. You can now borrow one of our three LED light therapy Happy Lights from the Library Service Desk.
Lights can be borrowed for up to 4 hours at a time.
What is Light Therapy?
"People [usually] use light therapy to treat seasonal affective disorder, which is depression related to shorter days and reduced sunlight exposure during the fall and winter months" (My Health Alberta, 2020) and is thought to help improve sleep, mood, energy, and mental focus.
Light therapy is not a cure but it may help you feel better. If you're unsure if light therapy would be right for you, talk to a doctor before starting.
Learn more about light therapy: Seasonal Affective Disorder: Using Light Therapy