Go back to news
Reminder for Monday and Tuesday 23th-24th!
Posted on: Jan 20, 2017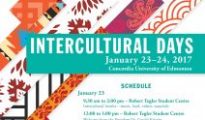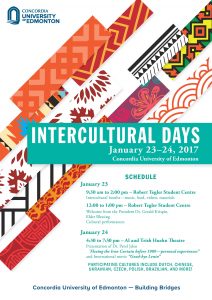 On January 23-24, 2017 we will have our now called
Intercultural Days
Check out the amazing booths on Monday and please attend our largest event ever at noon-1pm!
Please see the poster attached and also get your free ticket asap at the link below if you are interested in:
January 24: Presentation by Dr. Pavel Jelen, chair of the Czechoslovak Society of Arts and Sciences, Alberta: "Fleeing the Iron Curtain before 1989 – Personal Experiences" followed by
Movie: Good Bye Lenin! (German tragicomedy film, directed by Wolfgang Becker, 2003)
====> Free ticket to Movie Event – Eventbride
On Monday January 23 we will have many international/cultural booths from 9:30 am – 2pm in Tegler, our First Nations will welcome and open the event, and we will watch amazing performances from noon – 1:00pm.
Concordia University of Edmonton – Building Bridges