Go back to news
Research Cluster on Wellness Presents: SAGE Grant Information Session
Posted on: Feb 27, 2018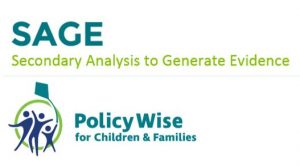 The Interdisciplinary Research Cluster on Wellness
presents:
Dr. Poliana Barbosa and Hannah Lloyd-Jones on Tuesday, March 13, 2018 at 12:00 – 1:00 pm in Library Room L110.
You are invited to an information session about SAGE (Secondary Analysis to Generate Evidence) and the upcoming SAGE Secondary Data Use Grant 2018. This grant opportunity provides support to researchers wishing to use the SAGE data sets to undertake further research. This session is of particular interest to researchers in the Department of Psychology and the Faculty of Education.
About SAGE
SAGE is a collaborative data repository platform that connects stakeholders through the ethical secondary use of data. Research data, community service data, and administrative data related to health and social well-being is managed and shared through SAGE while SAGE increases the value of data by providing the infrastructure, processes and governance to bring stakeholders together to use data in new ways and inform social policy and practice.
All proposals to access data require ethical approval from a recognized ethics board and staff ensure that the deposit of data is also ethical and legal, for example, by offering advice from the very beginning of a research proposal on the language used in participant consent forms and ethics applications. Both depositors of data and those who access data are required to sign agreements to safeguard the privacy of the individuals in the data held. 

Click here for more information: SAGE for Researchers