Go back to news
How to Access your 2017 T4
Posted on: Feb 27, 2018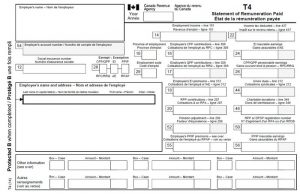 2017 T4 slips have been issued electronically via email or through the Avanti portal.
The default password is your SIN number.
If you have forgotten your password, please follow the instructions below to change your tax slip password through the Avanti portal:
Sign into https://myavanti.ca/Concordia.
1.  Click on "Personal" then "Tax Slip/Statement Password Change".
2.  Type-in your new password.  It can be all numbers or letters or combination (The new password is ONLY to view your T4 tax slips in Avanti).  Then you confirm the password and press "Change".
3.  Click on "Personal" tab then "Tax Slip Forms".  You will be able to view your T4 by pressing "View" and entering the password you just created.
4.  Right click on your mouse and select "print" for printing a paper copy. The T4 has 2 pages.  The first page is your financial information and the second page is the instruction page.
If you have any further questions, please contact Vicky at vicky.wong@concordia.ab.ca.