Go back to news
iSoundtrack: Music from LOTR, Harry Potter, Star Wars, and More
Posted on: Feb 27, 2018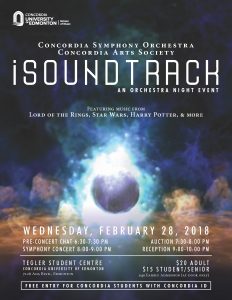 Relive the drama and excitement of your favourite films in a live music event
iSOUNDTRACK: An Orchestra Night Event
WED., FEBRUARY 28th, 2018
6:30‒10 pm in the Tegler Centre
The Concordia Symphony Orchestra (dir. Danielle Lisboa) presents music from the Lord of the Rings, Star Wars, and Harry Potter movies along with excerpts from the standard symphonic repertoire featured in other stellar films, such as Holst's "Mars" in Gladiator (2007), Morricone's poignant theme from The Mission (1986), and Elgar's Enigma Variations in Elizabeth (1998) and The Matrix (1999).
The concert forms the centerpiece of an evening of movie-themed activities hosted by the Concordia Arts Society. The event starts at 6:30 pm with pre-concert talks by Concordia faculty on the significance of music in Tolkien's world (Daniel Krispin) and how soundtrack supports narrative in selected scenes from The Lord of the Rings (Dr. Reginald Wiebe). An art auction (7:30 pm) is followed by the concert (8 pm) and reception (9‒10 pm). Come in your best movie-themed outfit!
One free ticket per Concordia faculty/staff (pick up at the Bookstore). Additional tickets ($20 adults, $15 for students and seniors) available from Tix on the Square (780.420.1757), the Bookstore, or at the door while quantities last. Special Family Admission: $40 (available at the door only).